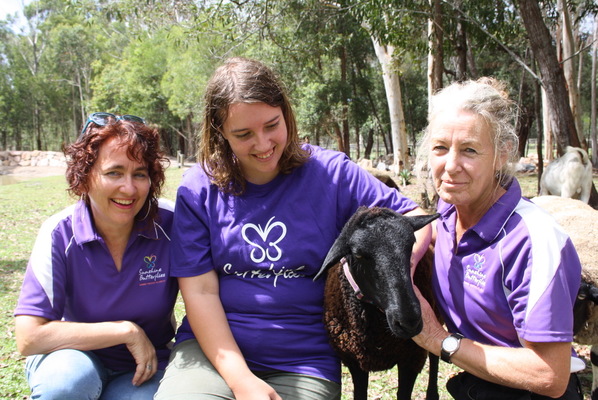 By Abbey Cannan
Local disability support charity Sunshine Butterflies, is now offering Animal- Assisted Therapy (AAT) sessions with a qualified therapist, for people living with a disability at their base in Cooroibah.
A first for disability services in the region, the one-on-one therapy offers tailored therapy sessions with their friendly farm animals, conducted by qualified Animal-Assisted Therapist Madeleine Flynn, who has a Bachelor of Occupational Therapy, Masters in Environmental Science (Animal Behaviour/Ecology), plus a Certificate 3 in Dog Training/Behaviour.
She will be assisted by equine specialist Sally Clay, who is a qualified carer with a Certificate III in Community Care, Parelli Natural Horsemanship Level 1 & 2 qualifications, plus a Certificate in Agriculture and Dairy.
People with a disability often respond to animals, in ways they find difficult with people. Animal-Assisted Therapy is a great way to deliver therapy for those that find it difficult to open up to people.
Many people find it easier to form a relationship with an animal, developing empathy and a rapport with the animal very quickly. This tendency to bond with an animal is the basis of Animal-Assisted Therapy.
In the case of equine-assisted therapy specifically, horses are very sensitive to human behaviour and respond to subtle changes in a person's behaviour or mood. This feedback helps the person and the horse to work together to achieve their goals.
At Sunshine Butterflies, their menagerie of furry and feathered friends can help your child to heal under the guidance of a qualified therapist.
Sunshine Butterflies 5-acre oasis at Cooroibah provides an environment to deliver these therapy services. The one-hour sessions are available each weekday morning (except Wednesdays) from 9am to 1pm. For more information visit www.sunshinebutterflies.com.au.