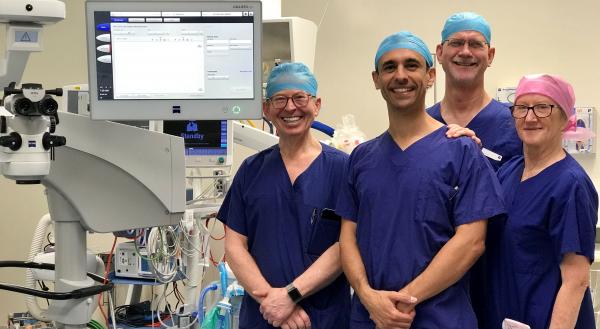 The latest microscope designed for delicate eye procedures has arrived at Noosa Hospital,
giving locals access to safer surgery and more accurate results.
The $200,000 ZEISS Lumera microscope arrived on site last week and will be used for most
ophthalmology procedures, particularly cataracts and pterygiums.
Noosa Hospital Opthalmologist, Associate Professor Kris Rallah-Baker said the ZEISS
microscope represented a huge step forward.
"When we put in a lens a lot of the time it needs to be at a certain angle. Previously that was
a manual process. But with this microscope, I pre-operatively measure the eye in my room
and that information is plugged into the machine on the day of surgery via USB to give me
the exact reading of where that lens angle needs to be," Dr Rallah-Baker said.
"In ophthalmology, 95% of operations are done under the microscope so this will make a big
difference. We've got a large elderly population in Noosa too and I see a lot of patients with
cataracts so safer, quicker surgery can lead to better outcomes for them."
Chief Executive Officer Justin Greenwell said the new microscope was a great 'next step' for
ophthalmology at Noosa Hospital.
"I'm so pleased that after launching ophthalmology services at Noosa Hospital just over 18
months ago, we are already progressing with new technology for our local patients. We're
always looking at ways to invest in the latest technology with the aim of giving the best
patient outcomes," Mr Greenwell said.
Assoc. Prof. Rallah-Baker said the new microscope also features a surgical assistant
attachment arm used by a medical assistant or nurse during eye surgery, as well as a large
screen showing the operation itself. These additional features enable up close teaching of
staff and medical students.
"It brings Noosa Hospital up to a gold standard in terms of ophthalmology surgery and we're
now able to deliver cataract surgery equal to much larger facilities, for example those in
Brisbane – and the people of Noosa deserve that," Dr Rallah-Baker said.
The ZEISS Lumera microscope was used for the first time at Noosa Hospital on Friday 4th June.