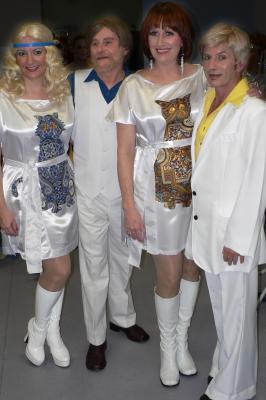 Mamma Mia, here I go again … the Sunshine Coast's premiere vocal group, Oriana Choir, will present a night to remember in August with Dancing Queen, a tribute show featuring the best of ABBA and Queen.
It follows the Oriana Choir's superb presentation of Mozart's Requiem and Ola Gjeilo's Sunrise Mass in May which saw near sell-out performances at Caloundra Event Centre and St John's Cathedral in Brisbane.
That was a highlight in the storied career of this marvellous musical ensemble.
After a year in which the opportunity to be at a live performance of this quality, in such a special setting as St John's Cathedral, was little more than wishful thinking.
However, Oriana's concert was a much needed shot in the arm for culture-deprived choristers and audiences alike.
So, what's next for this world-class, Sunshine Coast based choir of eighty-plus members?
As John Cleese would no doubt put it, it's a case of 'and now for something completely different.'
Just as aptly, it could be 'and now for something completely Oriana.'
As the choir has demonstrated over the past 16 years, it is nothing if not eclectic – being equally adept in opera, sacred, jazz, baroque, pop, avant-garde and more.
A brief pause to reflect on the success of the Mozart/Gjeilo concerts, and to re-charge the batteries, and Oriana will be full speed ahead into preparations for Dancing Queen' celebrating the music of ABBA and Queen.
"Oriana in full flight, delivering a joyous, shiver-inducing Bohemian Rhapsody, is something you won't forget in a hurry", says former Oriana vice president Ian Rix.
Featuring many favourites of both groups, including the Boho Rhap, and perennials such as Dancing Queen, Money Money Money, Mamma Mia, Somebody to Love, Crazy Little Thing Called Love and many more, this will be a supremely popular concert series, appealing to all generations.
It promises to be one of the performance delights of 2021. And what better way to drive away the Covid blues than with an uplifting evening of the music of ABBA and Queen?
These two icons of the '70s have created a body of timeless music.
Their creativity, vitality, dynamism, exciting live presentations and sheer song-writing brilliance remain unparalleled.
Oriana is no stranger to the music of Queen and ABBA, having performed the songs of both bands many times.
With the 70-voice chorus conducted by Elisabeth Wallis Gaedtke and accompanied by a live band, you will be jiggling in your seat and tapping your toes in no time.
The performances at Noosa and Kawana will also see the Sunshine Coast Youth Choir performing, conducted by Annie Wilson.
Tickets are available from the venue (thej.com.au ph: 5329 6560)  for the 7pm Noosa event at The J on August 14.
Bookings for either the 7pm August 21 cabaret or 2pm August 22 matinee at Venue114, Kawana are available on trybooking.com, phone 0431 542 343. Visit oriana.org.au for all the details.