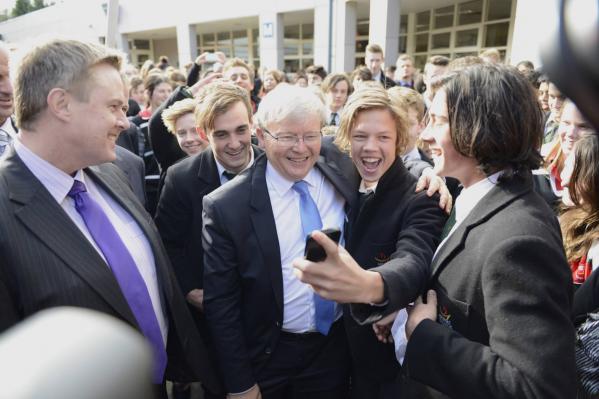 By Abbey Cannan
Former Prime Minister Kevin Rudd was recently mistaken for an Uber driver by a bunch of tipsy tourists in Noosa.
In a Twitter story told by his daughter Jessica Rudd, she explained how the politician ended up giving a lift to four young visitors from Melbourne.
"Dad just dropped us off at a restaurant in Noosa then went to find a park because it's raining," Jessica said.
"Then I thought I saw some people pile into his car, told myself it wasn't, must be a similar looking Uber."
But it wasn't a similar looking car, unbeknownst to the people jumping in for a lift, it was Kevin Rudd's.
"The lovely but tipsy crew had been at the restaurant since lunch and asked for a lift to Hastings Street," Jessica said.
"Said they'd pay. He said he'd give them a lift. Took them half the ride to discover who their driver was."
Kevin confirmed his new role giving free lifts to Hasting's Street as he said, "Guilty as charged."
"Four young Melburnians getting drenched in a Queensland subtropical downpour at Noosa last night with no Uber in sight… So what's a man to do? Good kids. I hope they've had some fun up here."