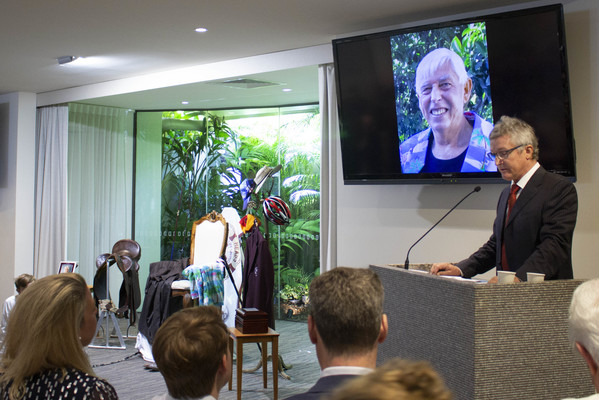 By Ron Lane
It was Monday morning approximately 10.30 and the chapel at Gregson and Weight Funeral Directors was full to capacity. The occasion was to bid a sad farewell to John Graham Little, a man who at 74 left us far too early after a long battle with cancer.
The fact that the chapel was standing room only, was indeed an indication as to the character and respect of the man; for in the crowd were men and woman from all walks of life; business, political, medical, lifesaving, floral shirts and Seahorse Nippers.
The service was officiated by Ian Miller and in attendance were his John's wife Mary-Lou Little, son David and other members of his family. It was indeed a service which a close friend described as being one which John would have approved; touching on his successful business life (in particular his New Guinea years and the Hasting St Association) his massive contribution to the local Prostate Cancer Foundation (formed in 2017), Noosa Triathlon, Seahorse Nippers and above all (in the world of surf lifesaving) his involvement and dedication to the Noosa Heads Lifesaving Supporter Club.
During the service, a poem written by his wife Mary- Lou, entitled Sipping Swallows, was read by her to the congregation; and following this tributes were made by close mates. It was during these that many serious and sometimes funny tales were told, tales which all in attendance enjoyed; the laughter being a tribute to a great man who not only loved his family and mates but also lived life to the fullest.
His outstanding contributions to our community were done in such a quiet fashion, never seeking the limelight, that the respect that he received knew no boundaries. He was indeed a man amongst men. Vaya Con Dios old friend Vaya Con Dias.