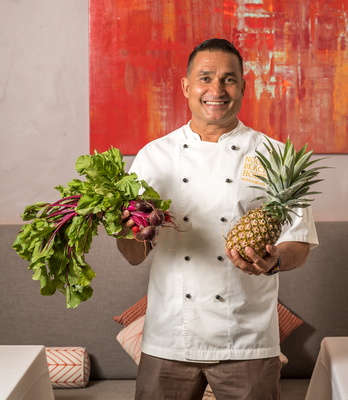 After either successful years, Peter Kuruvita will be leaving the helm at Noosa Beach House to pursue new opportunities.
After what has been a most successful joint venture between Peter and Sofitel Noosa Pacific Hotel, both parties said they feel the time is now right for a new direction.
Peter, whose final day at the restaurant will be Thursday 30 September, said, "This is the end of a truly memorable era for me."
"I'd like to thank all the locals, regulars and visitors who travelled far and wide to dine at the restaurant and attend our events.
"I've been lucky enough to work with an incredible hard-working team, amazing Sunshine Coast producers and be a part of such a strong community.
"Noosa is my home, and my next exciting adventure will remain in the neighbourhood and be revealed soon."
The years Peter spent establishing Noosa Beach House as a favourite of the Noosa dining scene have been both rewarding and memorable.
During his time, the restaurant received many accolades and industry awards including the Business of the Year at the 2019 Sunshine Coast Business Awards and the Bronze Award in Restaurant and Catering at the 2019 Queensland Tourism Awards.
For Peter, the greatest reward has been working alongside his dedicated team and the loyal support of the community.
News of Peter's next venture will be released in the coming weeks.