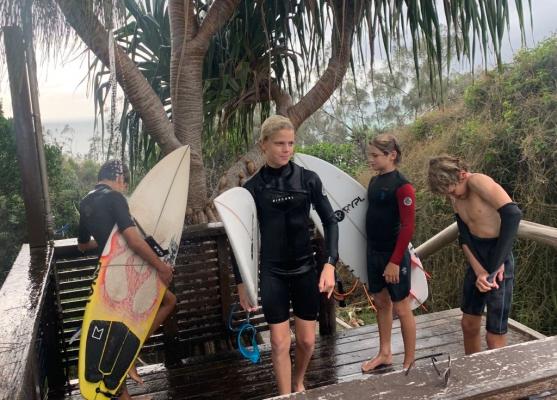 By Abbey Cannan
Five passionate Noosa groms have set out to surf everyday in September to raise funds in support of SurfAid's mission to support locals in isolated surf communities.
Team Mad Froth started out as a surf check Whatsapp group for five Noosa surfers but has become more than just a chat group.
The boys, Josh Kelly, Jesse and Archie Fergusson, Leo Sennett and Lukas Nauer, aged 10 to 12, are the epitome of mad froth, surfing together every day, come rain, shine, wind or waves.
When the opportunity came to raise awareness and much needed funds for other children in Indonesia by surfing every day in September, they were fully on board and signed up their team.
The funds raised will bring clean water, healthcare, and food security to families in remote surfing communities.
The boys have also developed a range of caps and t-shirts which they sell to raise funds for YouTurn Youth Support, so altruism is at the core of their "not-so-corporate" values.
Hosted by Billabong and SurfAid from 1 to 30 September, rookies and pros alike are encouraged to surf for 30 days straight in the inaugural Make A Wave challenge to make an impact for SurfAid.
Josh said it wouldn't be too hard for the group to surf every day in September.
"It's really fun to be out in the water with all your friends, surfing comps and getting barrels," he said.
"I want to raise funds because I know that there are people in tough situations with no food, no education and live in poverty."
He said they wanted to raise money for those less fortunate to have a healthy life.
"I was originally from South Africa and I saw a lot of people with very little compared to what I had … children living on the street, begging for food. I want to be able to help wherever I can," Josh said.
"I think everyone can do a little bit to help others. The little things always add up to big things."
Lukas said living in Noosa was a huge privilege, having access to sources of water and education.
"I would definitely encourage other kids to do something for those less fortunate because of the good feeling that is received," he said.
Leo said he's surfed in remote places such as Fiji, Bali, Maldives, and the people were always smiling, appreciative and friendly.
"I realise how privileged we are because we are blessed with everything right here in paradise," he said.
"Mum always says, 'doing good feels good'."
Last year alone SurfAid reached more than 52,000 people living next to the world's most remote waves who struggle to access basic services.
Sadly, the World Bank estimated eight million people in Indonesia fell back into poverty in 2020 due to the economic shock of the pandemic.
The Make A Wave challenge aims to raise $100,000 to support SurfAid's programs in places like the Mentawai islands where support is needed more than ever, and the boys want to help make this possible.
SurfAid chief executive officer Doug Lees said, "The global surf community first discovered the incredible waves of the Indonesian islands more than 60 years ago."
"Covid-19 has had a devastating impact on our friends in Indo and the first time in many years, some of our favourite breaks have empty lineups.
"We might not be able to surf remote breaks this year, but that doesn't mean we can't support the locals in isolated surf communities.
"Last year with a team of Indonesian nationals on the ground, SurfAid stood by our mission and supported families in the places we love to surf to access healthcare, sanitation and clean water when the pandemic began.
"Now we need the support of the entire surf community to ensure we can continue to support healthy and resilient remote communities as the threat of Covid-19 remains constant."
The boys have lofty fundraising goals, which you can help them achieve by donating to their fundraising page on makeawave.com.au/t/teammadfroth and follow their mad froth journey on instagram.com/teammadfroth