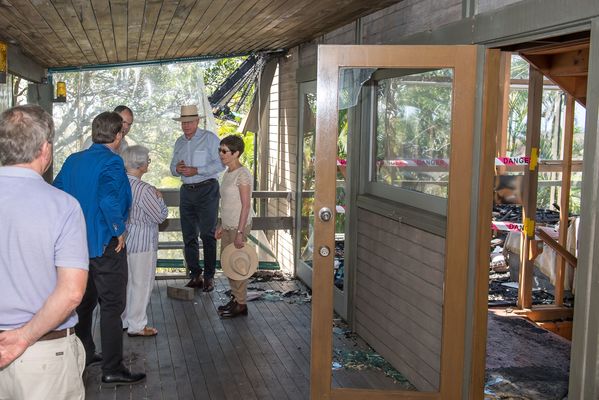 By Margie Maccoll
With fires engulfing much of the country of late it was the community spirit rising from the ashes at Peregian Beach that attracted Governor General David Hurley to the region on Tuesday.
"I was struck by what was really a fine example of community spirit," he said.
"We are a lucky country, not because of our natural riches. We are really rich in spirit and this is a very fine example of it. We've got a good case study here of response," he said, describing Noosa as a "shining example for the rest of the country".
And Pam Murphy, the 89-year-old woman who was the only person to lose her house in the fire, he said, epitomised this spirit.
"You have an indomitable spirit. If we see anyone who represents this spirit it is you," he said.
"And the guardian angels who have come to save you … typifies what I have seen in this small community.
The Governor General was given a rousing welcome when he dropped by Peregian Beach Community House to thank volunteers and emergency workers after visiting the surrounding fire ravaged area.
"One of the most important parts of my job is to thank people for what they do for their community. When disaster strikes, you continually see a heartfelt response from people, who go the extra mile to help out," he said.
"Thank you for the lives you have undoubtedly saved and the homes you have saved and for what you do for us every day," he said to both paid and unpaid emergency services personnel.
He praised the local councils for their quick thinking in setting up an emergency command and evacuation centres and the community organisations that came to the aid of the community.
As he wandered the room speaking to members of the public everyone had a story to tell him.
Pam Murphy said people had been wonderful to her and she was overwhelmed to have met so many officials.
"I never expected this," she said. "I'm alive and kicking. I'm going to rebuild."
Young Jake McCready was pleased to receive a medal from the Governor-General for helping out the Rural Fire Service and was also happy to have a day off school to receive it.
Yandina Creek Rural Fire officer Scott Brook told how the officers fought alongside Queensland Fire and Rescue Service officers putting out spot fires on fences and bushes across Peregian's streets as they prevented the spread to houses.
Scott said spot fires were leaping 5km ahead and officers worked two days straight as they fought the fire and held open a southern exit for firefighters, in case they needed to get out fast.
Lions disaster response facilitator Michael Roach told how Lions members were activated after council contacted them at 5am to serve breakfast at evacuation centres.
"Within an hour we'd bought $1000 of food (after gaining early admission to Coles). By 7am we were serving breakfast at the J and we did that for the next couple of days," he said. "We provided for 200 to 300 people and we had terrific support from restaurants."
Queensland Koala Crusader spokesman Bernard Jean spoke about the loss of wildlife in the region from the fires, the difficulties they were having now, particularly bats, to find food as well as the loss of local koalas to dog attacks and car strikes.
The Governor-General told him about a Koala Hospital he had visited at Port Macquarie where koalas that could no longer survive on their own in the wild but still had a life to live were given a chance at life in a sanctuary.
"That's what we want here," Bernard said.
The Governor-General said he was no stranger to the area, having visited Noosa regularly for family holidays when he lived in Brisbane.
"It's a lovely part of the country. It's become a very popular place to live."
The Governor-General urged people to seek help if they were struggling to deal with the fire event.
"We are now in the post-crisis period. That's when the risk plays on our minds," he said.
"That's when we really need to look after each other. This is a burden to share."
Noosa Mayor Tony Wellington told the gathering the disaster and community recovery demonstrated "just how much we rely on each other and how much we care about each other".