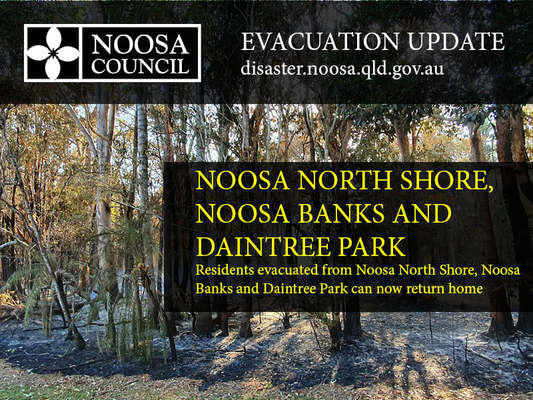 Police say authorities are working to "repatriate residents displaced by bushfires in the declared disaster area surrounding Noosa".
In a bulletin released at 12.30pm today, Sunday 10 November, police said residents "who remain evacuated are now allowed to return to their homes in controlled stages, the first stage being Noosa North Shore, Noosa Banks and Daintree Park".
"Police will be on scene managing barge transport and modified road closures on McKinnon Drive," the police statement said.
"Police are urging everyone to remain patient and not converge on the area all at once, and to follow directions.
"Locals should not return to their homes unless advised to do so by authorities as it may still not be safe.
"Residents in Cooroibah and Ringtail Creek must not return to their properties, as conditions are still too dangerous.
"Police will continue to actively patrol fire-affected areas to mitigate opportunist crime and protect property.
"There are no substantiated reports of theft of property, however any residents who return home and suspect criminal activity or feel they may be unsafe are urged to contact police.
"Tourists are reminded to please stay away from the affected zones and allow members of the community to safely and promptly return to their residences.
"Police will continue to provide information based on advice from the Bureau of Meteorology and Queensland Fire and Rescue Service in relation to what the fire will do in the future with the predicted atmospheric conditions.
"Police and emergency services would like to thank all members of the Noosa community for their understanding and corporation.
"We urge everyone to remain vigilant and keep updated with the below messaging systems."
Call Triple Zero (000) immediately if you believe you are under threat.