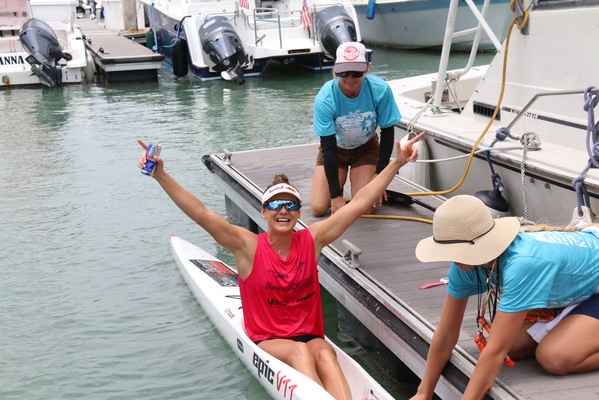 By Ron Lane
Despite heavy overcast weather and scatters showers hitting the Noosa District Netball Association facilities on Saturday morning, nothing could dampen the enthusiasm of the hundreds of young players.
At 8.30 the Saturday netball program for children, ranging in age from 5 to 16 was under way; with all courts occupied it was definitely a full on morning. According to a flyer provided by Secretary Sue Lowrie, "Saturday morning netball provides both competitive games for children 11yrs and up, with boys and girls participating and the very popular Net Set Go Program, a program which is aimed at our youngest members."
Over on a court situated in the far corner The Net Set Go Program was under way with the very young being taught, (under the supervision of senior officials), the basic skills of the game. In some cases the balls which the players were being taught to catch and throw, were almost as big as them: the next step is modified games.
Also at the same time junior umpires are going through the very successful umpiring mentoring program; and amongst the mentors there is a National A Badged Umpire, Eve Shepherd. This has been so successful that a number of the juniors have progressed to their National C Badges.
"Our Coach the Coach education sessions," said Sue Lowrie, "have been popular this year providing both development for our coaches and improved netball for our players, with 20 new coaches gaining accreditation. This year we have nominated three teams in the Queensland State Age Carnival and they are supported by two development squads. We also have a junior development squad who are our younger players, hoping to be selected in our State Age teams next year."
With regard to the coaches the club this year received a funding grant from the local council to assist in their development. "For this we are very grateful," said the secretary. With players officials and families coming and going between games it is estimated that some 480 people pass through the grounds on a Saturday morning.
President Beverly Bullivant said, "With the assistance of our dedicated committee and volunteers, netball in Noosa continues to go from strength to strength. We continue to offer development opportunities to all our members and are particularly excited to offer Walking Netball later this year."
Walking Netball is a new game which got under way some twelve months ago in Brisbane and is aimed at ladies, who for one reason or another would prefer not to play the traditional version (lots of running and jumping)but still want to be involved in the game. Caloundra and Maroochydore have recently made moves in this direction and our local club is planning a demonstration game which will be held on a Saturday morning on a date to be fixed.
While our local open sea swimmers Nick Sloman and Kareena Lee, are competing and going through heavy training for the Open Sea World Championships to be held in South Korea in July, another local Jordan Mercer has not only been contesting another World Open Sea Championship Event, but has come home a winner.
The event was the Molokai Challenge Ski Race. Held over a distance of 53kl and over the open waters from Molokai to Oahu Hawaii, this event with ski paddlers from all over the world competing is looked upon as the World Championship for skis; or as the American promoters call it, "The Superbowl of Ski Racing." Not only did Jordan win but she did so in record time of 3hrs 47 min 20sec.Congratulations to not only Jordan, but her support team led by her dad Darren and fiancé Tim Matters.