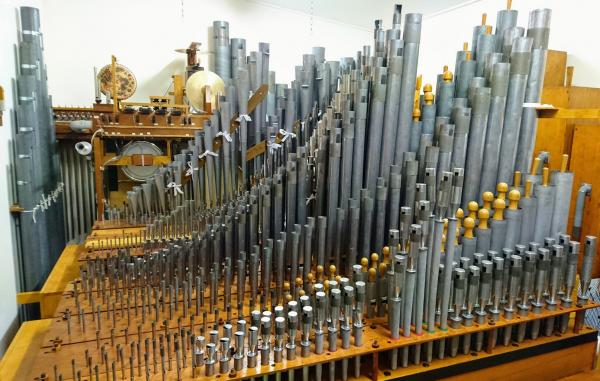 By Jacqueline Trewin
Queensland Federal MP Llew O'Brien and Noosa MP Sandy Bolton are some of the distinguished guests attending The Majestic Theatre's final 100th birthday celebration this weekend.
The much-anticipated community event to be held on Sunday 19 September will see the heritage-listed theatre come alive with an exciting line-up of acts to honour the grand old dame.
With the laying of two stars on the sidewalk, including a champagne toast with birthday cake, the event promises to be the cultural highlight on the Sunshine Coast, if not the world stage.
Vice president Alison Hadfield said the finale would have more of a cultural theme than the previous three events held this year in celebrating the theatre's centenary.
"We'll be featuring resident organist and icon Ron West playing the rare 1937 Compton theatre organ during the screening of a short Laurel and Hardy Film," Ms Hadfield said.
"The organ's pretty special as it's one of only four in the world," she said.
Following major flooding that hit the theatre 10 years ago, the previous organ was extensively damaged before the Linnett family from Brisbane (who'll also attend the finale) kindly donated the organ, which took more than six and half years for Don Clark and the late John Brooks to restore.
Other highlights of the event will include renowned Brisbane organist David Bailey who is an established player with the highly acclaimed Theatre Organ Society of Australia.
"David's the only other organist in Australia who can accompany silent films," Ms Hadfield said.
"We'll also be having our resident backup organist Chris Rose playing a beautiful white grand piano owned by Noosa Jazz Society," she said.
Other performances will feature the Arioso Chamber Ensemble – the only baroque group on the Sunshine Coast including Hungarian soprano Judit Molnar, Margaret Caley (violin), Belinda Manwaring (cello) and Janet Brewer (harpsichord).
Performing to critical acclaim at the 2016 New England Bach Festival, the group will be playing pieces from their latest CD, Pearls, featuring classic baroque arias and instrumental music.
"We feel very privileged to be playing at this special event. We've played at the Majestic Theatre at least three times before and the acoustics are excellent, so when we're onstage we don't need microphones as everyone can hear us clearly," Ms Brewer said.
Ms Hadfield says the quality of the acoustics could be attributed to the building's masonry, but also thanks to government grants.
"It's a fibre cement construction, which gives it a fabulous sound. We also managed to secure a grant from the Gambling Community Benefit Fund (GCBF) for a brand-new digital sound system," she said.
Noosa Council also provided an $11,500 grant last year towards renovations of the theatre.
"Another grant was for new solar panels from Celtic Solar Electrical, which helped us save thousands in electrical bills, plus we've got new air conditioning, thanks to Foundation for Rural and Regional Renewal (FRRR)," Ms Hadfield said.
But Ms Hadfield said while the grants provided much-needed support, it's the community effort of non-profit organisation, Pomona Arts Inc which has also played a significant role.
"We've managed to get ourselves through COVID without it affecting us too much financially," Ms Hadfield said.
"We've got a good core team of executives who work well together, including our treasurer Michael Egan who works hard to ensure management is on target."
"The theatre needs people who care enough about it, but it does sit in a vulnerable state as it's community-owned, run by a volunteer committee," she said.
The previous owner and life-long silent film buff Ron West, who helped put the theatre on the map, said he's looking forward to the event this Sunday.
"The birthday finale is going to be something quite amazing. Whoever thought when I started playing at The Majestic it would end up something like this?" Mr West said.
"I didn't think there'd be much interest in silent film, but it's grown out of proportion. Even a friend from Brisbane told me over the weekend there were two commercial cinemas running silent films there, which I find quite astounding."
"There's an increasing number of people interested in silent movies and every Saturday we always have a different audience at The Majestic," he said.
Mr West credits local businessman Mr Ernie Bazzo who bought the theatre from Clara McDonald in 1931, when it was a vibrant social hall screening silent films, for the theatre's survival.
"Back in those days, Ernie Bazzo teamed up with a couple of mates in Pomona and bought the necessary equipment to install talking pictures, which was a big thing back then," Mr West said.
"After WW2 when television was introduced, many country halls closed down because they could no longer compete, but Ernie was determined for Pomona to have a theatre and through thick and thin, he kept it going once a fortnight."
Mr West said it was still running like that in 1973 when David Stratton telephoned him about getting a Sunshine Coast film festival off the ground.
"David called me and said, "Westie, you were keen on holding that film festival on the Sunshine Coast. Are you still interested?" Mr West said.
"He said, "You've got 10 days to find a venue plus a $400 budget for advertising. Here's your chance, boy! Get moving!" Mr West said.
Mr West scoured the area and had countless rejections until somebody mentioned a cinema in Pomona: The Majestic. He bought the theatre from the owner, Harold (the late Ernie Bazzo's son) who reluctantly agreed but Ron persisted: the deal was sealed.
Despite its success, the theatre has had its share of trouble. In 1988, it was almost history until a phone call provided a lifeline.
"A lady from the Hyatt rang and wanted me to run a silent film. I ran Son of the Sheik to a busload of travel agents. The word spread like wildfire and it's been totally silent ever since," Mr West said.
Thirty years later and with the theatre in need of restoration, Ron surrendered The Majestic to community group Pomona Progress Art Tourism Inc (now Pomona Inc) in 2006 when it underwent a major refurbishment with assistance from Queensland Heritage Council and Noosa Shire Council before re-opening in mid-2007 as an all-purpose entertainment venue.
Former Sunshine Coast Creative Alliance president, urban designer and architect Phil Smith said the theatre's structure is unique.
"Older public buildings like this are becoming rarer on the coast," Mr Smith said.
"They're culturally important and help to reinforce who we are. They tell us stories about our cities and towns and create diversity because they're rare, older timber buildings. They're also important venues for local musicians, film-makers and artists as they're fairly flexible bases which you can use for a range of things," he said.
Ms Hadfield, who has recently co-authored a book about the theatre, entitled, 100 Years of Majestic Memories with Kathy Lynch, will be presenting a digital slideshow of historical images at the grand finale, depicting the theatre throughout the decades.
Ms Hadfield says the new bar built by president Vince Scheenhouwer would boast an inviting area for guests in time for the event.
"We'll have a much better space for people to sit, chat and have a drink before the show without all the noise travelling through to the hall. And it's also much safer for social distancing. We're really excited it's going to be open for the 100th birthday grand finale," Ms Hadfield said.