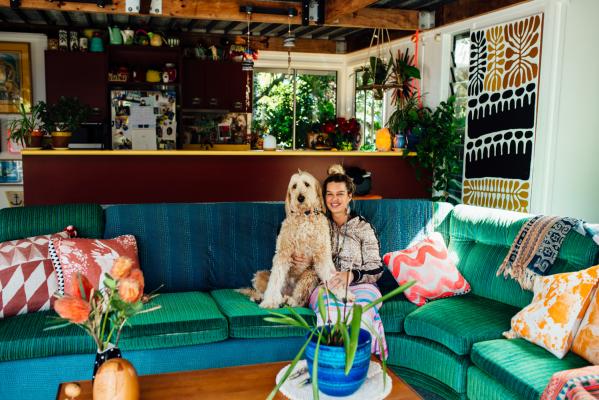 Boom Shankar launches their summer Island Life collection by celebrating some incredible friends and colleagues within the Boom community – of diverse ages, genders and cultural backgrounds, with a special focus on Pacific Island culture within Australia.
Continuing Boom Shankar's philosophy of cross-cultural cooperation and inspiration, the brand is harnessing the power of their social media to shine the spotlight on the valuable contribution Pacific Islander culture makes to life in Australia. The summer campaign will feature a range of talented artists, musicians, chefs, performers and journalists with Pacific Island heritage.
Designer and founder Dui Cameron said throughout the last 26 years of designing Boom and living between Australia and India, where the brand began, she'd always been inspired by a great diversity of cultures across the world and the amazing stories and people she'd met along the way.
"I feel fashion has huge potential to bring people together and make positive change in the world, so I wanted to use our social networks, blog and weekly email newsletters to really connect communities and give people the chance to see the world through others' eyes," Dui said.
"Sometimes you can listen to a person's story, and their experiences and ideas can touch you in a way that changes your perspective, influencing how you live your life. I want Boom Shankar to be a place where a wide range of stories are told. The clothes are really just a fantastic way to engage people."
The Pacific Island inspiration for Boom Shankar's summer collection came from designer Dui Cameron's first meeting with model and muse Demi McCallum.
Demi has a diverse background, raised in Australia with a Samoan father who grew up in New Zealand and a Scottish and Austrian mother. Enchanted by Demi's sunny personality and stories about her recent journey back to Samoa to connect with family, Dui started to design the collection with Demi in mind. While the pair initially planned to head to Samoa to shoot the collection together, COVID-19 meant they instead explored the riches of the Sunshine Coast's beaches and hinterland, with Dui turning her attention to the wealth of Pacific Islander talent and contributions to Australian culture closer to home.
"What started as a setback, being unable to leave the country, turned into a huge opportunity. I realised that so many of the artists, musicians and community workers I admire have Pacific Islander heritage and so the idea was hatched to develop a way to share their talents with our Boom Shankar community," Dui said.
As the summer collection launches throughout the next few months, Boom Shankar's social media and blog will become a platform connecting the Boom community to a wide range of First Nations, Pacific Islander creatives, foodies and spokespeople, with regular content sharing recipes, music, art, and more. Boom Shankar will also be diving into the important cultural roles of Fa'afafine Samoans, people of non-binary gender, as Tommy Misa and Ella Ganza share their stories and art.
Musician and potter Ofa Fanaika reflects on her personal story and Tonganese upbringing saying, "My connection to Island culture is everything that is me, my name, my birthplace, my ancestors, my way in the world, the lens I look through, the lens in which I'm often judged by, my spirituality and connection to the sea."
Also featuring in the summer Island Life campaign, Brisbane-based guitarist Brandon Mamata reflects that his Solomon Island heritage may be the birthplace of his musical style. "I would say my sense of rhythm was born from my experience with Island culture. Many of the foundations of my musical senses stem from my time within Islander communities both here and in the Solomon Islands."
"We have got so much to share this season, including songs with talented Australian-Fijian musician Andrea Kirwin, who has just opened a music space in Nambour; fermented and native bush foods with Mikkeline Olsen; and Polynesian dancing with Heimana and Leilani Tahiata who have Maori and Hawaiian roots. It's going to be a lot of fun!," Dui exclaims.
Hearing Diverse Voices
As well as celebrating Pacific Island creatives in Australia, Boom Shankar will be taking the time to consider what we can learn from Pacific Island culture and also address some of more difficult areas of our shared histories, which offers us valuable opportunities for learning about ourselves and Pacific Island nations and Australia's First Nations people.
Melbourne-based Samoan/Australian music journalist Sosefina Fuamoli said it was very important to always be learning and to be proud of heritage.
Dui said she wanted to make sure we weren't just cherry picking the sunnier aspects of Pacific Islander culture, and to make sure we also give voice to more challenging issues and painful histories. "On our Boom blog we'll be interviewing Javier Leon about the negative impact of rising sea levels in the Pacific and also Janet Ambrose about her upcoming exhibition exploring the tragic history of enslavement that Pacific Islanders suffered in colonial Australia," she said. "We are also thrilled to be talking with Lyndon Davis, from the Sunshine Coast Gubbi Gubbi country, to learn more about local First Nations history."
"For me, a lot of Island culture is about connection, family and sharing. Even just the little things like, no matter how little you've got there is always room for someone else at the table. What's mine is everyone's essentially. There's always room for someone else if they need to sleep, the house is always overflowing, but there's always room for someone to stay," tells Josie Kurukulie after reconnecting with her PNG roots, and meeting her biological father at the age of 25.
As part of this journey of sharing and learning, Boom Shankar is set to launch an in-house book club this summer – starting with Archie's Roach's book 'Tell Me Why'. Sign up to the weekly newsletter to stay in the know or follow @boomshankarclothing.