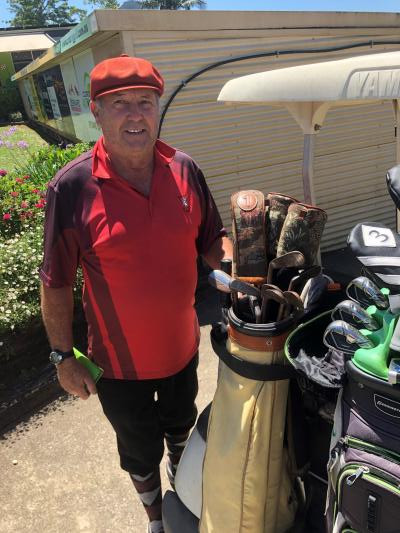 By Peter Owen
Wearing a pair of plus fours and with a tam o'shanter perched on his head, Gratham Leatherbarrow oozes golfing tradition.
Even his impressive moniker – the surname, of ancient Anglo-Saxon origin and originally given to a lord of the manor in north Lancashire – conjures images of caddies, courtly behaviour, and a celebratory glass of port in the clubhouse bar.
It will come as no surprise, therefore, to learn Gratham Leatherbarrow enjoys nothing better than a round of golf with a set of hickory clubs at his beloved Cooroy course.
"I'm a lover of the history of the game," he says. "I'm in awe of great players like Bobby Jones who played amazing golf with hickory clubs a century ago."
Gratham first swung a hickory club when he was a 12-year-old in Claremont, Tasmania, and has continued a lifelong love affair with the clubs that were used throughout the golfing world in the 1920s and 1930s.
These days the 73-year-old sees himself as a promoter of hickory clubs on the Sunshine Coast, and often organises Thursday afternoon games at Cooroy with die-hards like himself, and younger players keen to try hickory golf.
One of them is 19-year-old George Giblett, twice a winner of the Invincibles Junior Masters and one of the region's best young amateurs.
"I love the challenge of it," says George, who has a regular golf handicap of plus three. "It was a little difficult at first, but it definitely teaches you how to 'feel' the golf shot."
Gratham has been collecting hickory clubs for decades, many of them coming to him from Sydney-based former professional Tom Morris, 92.
"I put them together into sets and give them out to players keen to play golf the way it was done in the past."
Gratham says hickory clubs are known by names rather than numbers.
A typical set might include a brassie (driver), spoon (3-wood), mid-iron (4-iron), mashie (5-iron), mashie-niblick (7-iron), niblick (9-iron) and a jigger (chipping iron). There would be a putter but no sand iron.
If you were a buyer, a full set of hickories – two woods and six irons – might set you back $350.
A month ago Gratham, George, former touring pro Jason Norris and Kaleb Hamilton represented the Sunshine Coast in the Queensland Hickory Masters at Brisbane Golf Club.
And they'll again fly the Coast flag on Sunday when Cooroy hosts the Sunshine Coast Hickory Championship. A team of up to 20 players from Brisbane will head up the Bruce Highway in quest of the Bobby Jones Trophy.
They will play on a specially-designed composite course, which will be shorter than that normally used by Cooroy golfers, though Gratham says George Giblett has no trouble smacking the ball 260m with his brassie.
Gratham, who worked as banker before joining Mt Isa Mines, and then became a landscaper, played at Noosa Valley Country Club before joining Cooroy.
"I love the game and its history," he says. "If you don't know the history of golf you shouldn't be playing the game."
CAPTION (Gratham): Gratham Leatherbarrow prepares for a round of hickory golf at Cooroy
(Trophy): The Bobby Jones Trophy, designed by Jason Norris, which will be contested at Cooroy on Sunday.
Excitement grows in Sunday Series
When Andre Smit won Cooroy's 4BBB stableford competition on Saturday he knew he was in form. So, next day, he rode his luck in Noosa Springs' popular Sunday Series. And it paid off big time.
Andre, retired these past three years and beginning to take his golf very seriously, scored 41 stableford points to give himself a strong chance of reaching the final of the Universal Property Sunday Series, and winning a year's free golf at Noosa Springs and Links Hope Island.
"It was my once-a-year weekend," Andre said. "I've been having lessons with Peter Heiniger at Noosa Springs, and it's paying off.
"But it's one thing to have a lesson – something else, entirely, to put into practice what you're told."
Andre is a member at Cooroy and a social member at Noosa Springs, and hits the golf course four or five times a week.
He's a great fan of Noosa Springs' Sunday Series – a competition that offers weekly prizes, with that amazing pot of gold at the end of the rainbow.
The male and female who record the best stableford scores each month go into the December final, with the winner of that event claiming the year's free golf at two of southeast Queensland's finest courses.
Monthly winners so far are: Murray Hopping and Carol Yancey (March), Paul Bell and Kaye Bollen (April), Dion Gilbert and Sandi Hoskins (May), Greg Johnson and Zen Boakes (June), Koa Wood and Judy Buss (July), Brendon Motley and Judi Barrett (August), and Viv Grayson and Noi Pike (September).
Spring Classic tees off on Sunday
The first – and possibly last – Sunshine Coast Spring Classic, an event to showcase four of the region's finest courses and offer players a feast of competitive golf, kicks off next week.
A field of more than 70 male and female golfers will tee off at Maroochy River on Monday, with the 72-hole tournament concluding at Peregian on Thursday.
Originally branded as the Winter Classic and scheduled for June, the event will also be decided at Twin Waters (Tuesday) and Noosa Springs (Wednesday). Hopefully, as Covid-19 restrictions ease, it will revert to its original date next year.
It presents an opportunity for golfers to visit the Sunshine Coast and test their game at four premium golf courses.
The Classic is a 72-hole single stableford competition. It is graded and open to men and women, with daily and overall prizes awarded for each grade.
Registration will be at Peregian on Sunday, October 18, where players are welcome to enjoy a free practice round.
Play each day will be a noon shotgun start with a presentation cocktail party scheduled after the final round.
The entry fee of $695 includes four days of golf, carts, daily lunches, tee gifts, prizes and the welcome function at Peregian. Contact classic@golfsunshinecoast.com.au to see if there are any last-minute vacancies.
Too few want the MiScore app
The MiScore golf app – introduced during Covid-19 restrictions to minimise the chance of spreading the virus – has proved very popular at some Sunshine Coast clubs. More than 70% of Maroochy River members, for example, use it regularly, prompting the club to take out a long term subscription.
That hasn't been the case at Noosa, however, with only 30% of members using the app at its peak – and even less now that many restrictions have been eased.
The lacklustre response has influenced club management to discontinue its subscription. Members can buy the app themselves, but would still need to fill in and scan paper score cards each time they played in a competition.
The MiScore app, which allows golfers to score online and lodge their score electronically through their mobile phone, also has a built-in GPS, keeps a player's statistics, provides individual handicap information, records leaderboard updates and publishes local rules.
Lifeline for Cooroy
Noosa Council is considering a plan to build a retirement resort on land next to Cooroy Golf Club – a move that would ensure the future of the club.
GemLife, which has lodged a Development Application with the council, has agreed to build a new clubhouse, pro shop, buggy storage area for 40 carts, a new sealed carpark, and has guaranteed 246 new golf memberships – one for every dwelling in the proposed new resort.
Cooroy Golf Club secretary Andrew Dick said his club had seen a decline in membership numbers as members got older. "This is a unique opportunity for Noosa Council to assist in securing a sustainable economic future for the club," he said.
The proposal includes a full-size commercial kitchen and dining/function areas at the new clubhouse which would open an opportunity to host functions such as weddings, corporate and community events.
New start time for IBF Classic
Covid-19 restrictions have forced Twin Waters to adjust the starting times for the Ian Baker-Finch Junior Classic on Sunday, October 25. Originally scheduled as a shotgun start, the event will now feature tee offs in groups of four from 7am to 8.30am, off the 1st and 10th tees.
Entries for the popular event are filling fast. The draw will be published on the Invincibles website and app.
Noosa challenge at Keperra
Noosa Springs' Dino Degotardi and Noosa's George Giblett are teeing it up this week in the Keperra Bowl, one of Queensland's premier amateur events. The Noosa duo are part of an elite field of the state's best male and female amateurs competing in the 72 hole stroke play event, which ends today.
Club comp scores
NOOSA
Tuesday, 6 October
Men's Tuesday Club, stableford: Alex Officer 43, Graham Farrell 42, Studley Martin 41, Chris Misios 40c/b; B grade – Andrew Lonie 45, Dennis Hildebrandt 41, Ken Morrow 40, Gary Powis 39; C grade – Jim Crawford 42, Graeme Martin 41c/b, Terry Farrell 41, Marc Murray 40. Rundown to 37c/b.
Wednesday, 7 October
Vets single stableford: A grade – Michael Morgan 43, Trevor Payne 39c/b; B grade – Tony Jackson 42, Alan Bradley 41; C grade – Steven Bailey 44c/b, Kenneth Wales 44. Rundown to 37c/b.
Saturday, 12 October
Men's Monthly Medal, stroke: A grade – Rodney Vaughan 67c/b, Peter Cossins 67c/b, Rex Achurch 67; B grade – Tony Lincoln 67c/b, Dean Jeffrey 67, Bruce Hallet 69c/b; C grade – Max Rogers 64, Michael Meltzer 66, Terry Farrell 67. Rundown to 72c/b; women's stroke: Allana Moore 67, Mandy Webb 72, Lisa Joseph 73c/b.
NOOSA SPRINGS
Wednesday, 7 October
Men's stableford: Will Costin 44, Gregory Brookes 41, Paul Grant 40; women's stableford: Helen MacKenzie 45, Rosemary Perkins 44, Shard Lorenzo 42.
Saturday, 10 October
Men's stableford: Peter Kemp 41, Philip Starkey 40, Craig Stott 39; women's stableford: Di Cutting 44, Lee-Ann Hay 40, Vivien Dembo 39.
Sunday, 11 October
Men's Universal Property Sunday Series, stableford: Andre Smit 41, Andrew Horner 36, Richard Townsend 36; women's: Silvana Phillips 37, Rowena Faerch 37, Lee-Ann Hay 37.
COOROY
Wednesday, 7 October
Men's stableford, red tees: A grade – Gary Menyweather 38, Jeff McDonald 36, Mike Kent 35; B grade – Terry Lyons 43, Ron Blount 42, Dale Rickard 41c/b; C grade – Wayne McKinnon 41, Michael Hill 40, Bob Atkin 39. Rundown to 36.
Thursday, 8 October
Women's 4BBB stroke: Margie Lucas & Luliet Hall 60, Fay Wiggins & Anita Highland 61. Rundown to 63.
Friday, 9 October
Men's Coopers Challenge, Ambrose: G. Anderson, K. Hamo, L. Cobb 62.84, J. Ross, G. Carson 63.75.
Saturday, 10 October
Men's 4BBB stableford: J. Mac & A. Smit 46c/b, P. Gannon & C. Gannon 46. Rundown to 42. Women's stableford: Aileen Morton 35, Lee Williams 34. Rundown to 33.