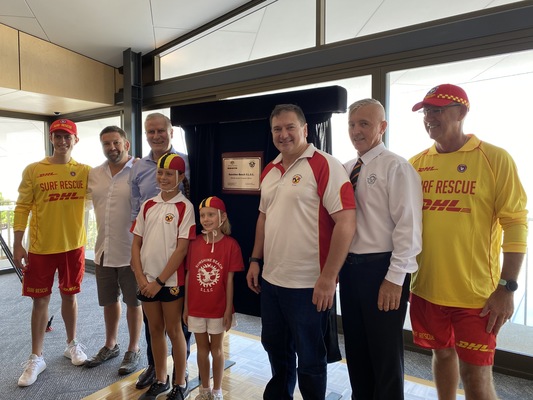 By Rose Astley
The 'funky and modern' Sunshine Beach Surf Club was officially opened Friday 14 by deputy PM Michael McCormack and member for Wide Bay Llew O'brien.
From what was once a tin shed on the hill in 1983, the club has seen an incredible multi million dollar face lift, receiving $2.5 million in federal funding under the Building Better Regions Fund.
Mr O'Brien said the investment in the project would provide long-term social and economic benefits to Noosa and the Sunshine Coast.
"This beautiful new premises will allow the Club to host large functions, attract more visitors and more members, which means stronger support for the Club's vital lifesaving services," Mr O'Brien said.
"In addition to ensuring public safety, this will enhance Sunshine Beach's strong reputation as a tourism destination, creating a flow-on benefit for local accommodation providers and retailers.
Deputy PM Michael McCormack was in agreeance with Mr O'brien regarding the allocation of funding to this project."These facilities are your money in work, and when we deliver things such as this it adds so much to the community capacity," Mr McCormack said.Club president Warick Redwood spoke on how the new Surf Club is drastically different from others across the state.
"Although you won't see the same things (here) if you visited a majority of Queensland surf clubs, I challenge you that this does not make Sunshine Beach any less of a surf life saving club.
"I would suggest in the same way a house is just a house, but the people in it make it a home, similarly, it's the people, our members, our volunteers, our staff that make Sunshine Beach Surf Club what it is," Mr Redwood said.Since the club un-officially opened last month, there has been an increase of 1500 new club members.
Boasting breathtaking views of Sunshine Beach, fresh and modern bars and lounges, the new club is expected to bring in not only locals but a larger demographic.Mr McCormack and Mr O'brien appeared to put aside any hostilities as they were seated side by side sharing handshakes and some banter, though there was a clear tension between the two after Mr O'brien's departure from the Nationals Party Room last Sunday.