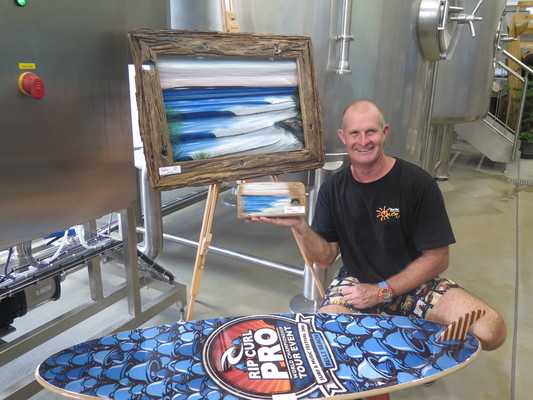 Feel the stoke and get inspired at the seventh Surf Art Exhibition in Noosa Heads organised by celebrated surf artist Owen Cavanagh.
This year's exhibition is once again an official event of the Noosa Festival of Surfing, and will be held at the Sofitel Noosa Pacific Resort on Hastings Street.
The 2021 Surf Art Exhibition will come to life in the Sofitel Ballroom and Lilly Pond Terrace, with a gold coin entry donation for the benefit of charity Salty Souls Legacy, The Board Meeting Surf Charity and Surfrider Foundation.
The event will run for nine days from 15 until 23 May.
"We have over 30 artists involved this year, including legendary guest artist Garry Birdsall and creatives from the USA and Brazil, who work in traditional and novel mediums, and some fairly unconventional tools," Owen said.
"There will be a huge variety of original art pieces including metal art, traditional style paintings such as oil and watercolour, airbrushing, wood carving, photography, sculpture, mixed medium drawings and designs, surfboard art and locally created merchandise, plus much more.
"Once again we are running our famous Kids Surf Art competition. There are two categories: Grommets (children 10 and under) and Juniors (11-16 years of age). To enter bring your art piece to the exhibition until the 22 May."
Winners will be announced the night of the 22. Kids art pieces will be on display the whole time as important part of the exhibition, so be sure to bring them in early with free entry.
"We look forward to sharing this fabulous art with locals and visitors," Owen said.