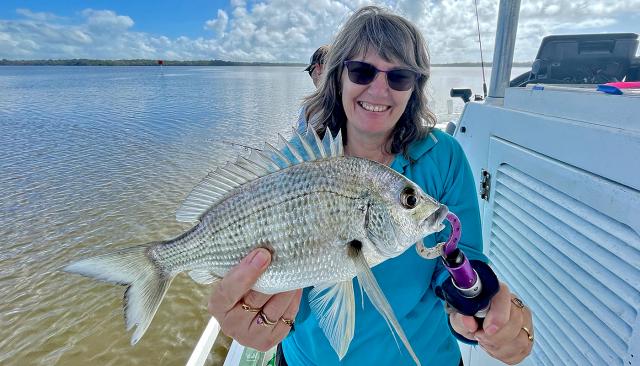 Tackle World Noosa
Well, here we are again with an impending storm about to hit the coast.
This need not be a bad thing so read on so you can make a plan.
Mid-week the winds dropped out allowing those not doing the 9-5 daily grind a chance to hit the offshore scene. We also had a great start to Saturday morning and many anglers took full advantage.
Sunshine and North Reef are the most popular spots as have been the northern areas toward Double Island Point. For many anglers, the mixed bag that sunshine offers keeps them coming back. For the pelagic anglers there have been some nice Spanish mackerel around. These fish aren't the huge monsters associated with the end of the month and into June, but 5-10kg range which is the perfect eating size. Spanish can be hard to get, but ensure you are running a gang hooked rig and a small top shot of single strand wire can certainly help you land a few. For those trolling lures then Samaki Redics have been catching a few fish as have smaller Halco lures. Lastly always ensure you have a few TT hardcore slugs rigged up to 20lb combos as long tail tuna are around and likely to show up at any time.
Snapper are showing up and there are some solid fish coming in around the 4kg mark. This year could be a bumper season with the heavy rain falls to date. For many anglers these fish are one of the best fighting reef fish around and, fortunately, they are a great lure and bait target. For lure anglers, you have so many options from jigs to plastics and everything in between. For the beginner, come in and let us pick some of the most popular options for you and show you how to rig them for success.
Surf fishing sees quality dart, tailor and even snapper coming in for those with longer 12 foot combos. Having a long rod with a softer tip allows you to fish light but make the most of getting more distance. For those on a budget, look at our range of Crucis Tempesta rods which are built on light weight carbon blanks so you can flick lighter baits out and hold the rod all day long without getting tired.
Now is the time of year where many anglers are gearing up for tailor so be sure to get all your sinkers, gang hooks and bait thread before the fish arrive.
The river will see a big push in bait fish if the rains come. Fish will sense the pre-storm build up and begin feeding hard. The first few days following a rain event can be excellent.
Reports of bigger bream are coming in and as things cool even further you can expect to find bigger high 30cm fish.
When rains hit, lure anglers should break out prawn-style plastics. Many rivers are holding big numbers of prawns and the Atomic prong is a great hybrid plastic with lots of movement sure to gain the attention of flatties too.
If you like snag bashing around Woods Bay and the Noosa Sound, try a TT HWS jighead on a 2-inch grub as the internal weight allows the plastic to fall horizontal and slowly. This action on 4-6lb line will see big fish come out from hiding to smash your plastic on the drop. We also have the popular Cranka crabs which are designed for this style of fishing.
Those with crab pots should be gearing up as the creeks and feeder drains start to spill and see mud crabs on the move. If you require any pots, floats or tags be sure to pop in.
Freshwater dams and lakes are sitting at just over 100 per cent with Borumba now releasing water before the rains come. It is always a good idea to check SEQ water online to see if your chosen dam is open before you leave.
As waters cool the bass will start to move down from the upper reaches and start schooling in the main basin. If you find these fish they love a metal vibe, jig or spoon. If you don't already have an Ecogear ZX blade in your kit make sure you get one as these send out massive vibration that drive bass crazy.
Now, for all the latest information log onto fishingnoosa.com.au for up-to-date bar and fishing reports, don't forget to drop into Tackle World Noosa, Noosa Boating and Outdoors and Northshore Bait & Tackle in Marcoola for all the right equipment, bait and advice to get you catching. Be sure to follow us on Facebook and remember Tight Lines and Bent Spines!