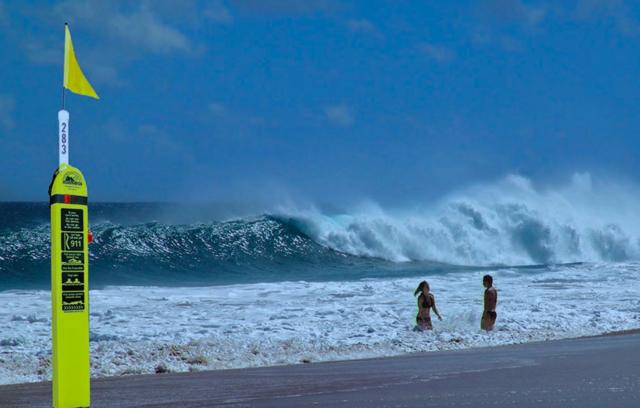 By Phil Jarratt
"Simplicity is the essence of ingenuity, despite the intricacy of much of the equipment with which modern life is surrounded," an unknown author wrote in the March 1921 issue of Popular Mechanics magazine.
He was talking about the development of the Torpedo Buoy surf rescue device, but he might well have been referring to the back-to-the-future push around the world a century later for the humble rescue tube, life ring and other land-based life-saving devices. This is particularly pertinent for Noosa, where the recent TC Seth swell almost took a life at Dolphin Point, and a group of our most respected and skilled surfers is calling for the immediate reintroduction of rescue tube stations at the most dangerous rock outcrops used by launching surfers and spectators.
Noosa Boardriders Club, which includes the best shortboarders in town, has donated $1000 to the Noosa World Surfing Reserve to get the rescue tube project up and running, and local surf life saving authorities are currently doing due diligence on the proposals.
"That tools used by sea-beach life-savers should be designed without complexity is especially fitting, for when man becomes an aquatic animal, he takes simplicity as his keynote; his equipment is usually nil, and his garb is reduced to the conventional minimum," wrote our unknown author a century ago.
Interestingly, just a handful of years before these words appeared in Popular Mechanics, John Donovan, proprietor of Laguna House, took simplicity as his keynote in providing protection for his guests who wanted to swim in the surf.
From my book Place of Shadows: "While Noosa in those years had far too few surfing visitors to sponsor a lifesaving club, Donovan paid for the installation of a safety reel at the foot of the sandhill in front of his establishment, and a team from the Royal Life Saving Society came up from Brisbane to perform an instructional drill at Easter, 1915.
"The single reel, and a few men who knew how to use it, seemed adequate to the task for a decade until the Cooroy-Tewantin road was widened and sealed, and at Christmas 1925, more than 200 vehicles roared down the escarpment to Parkyn's Jetty, where the launch took them downriver to try out this surfing caper. When the numbers were even higher the following Christmas, the Shire Council deemed there were now enough visitors to justify the employment of a Royal Society lifesaver to conduct patrols over the three peak days at a cost of £14."
Invented in Sydney in 1906, and still used in surf life saving carnivals today, the belt and reel system had serious flaws but still saved countless lives until it was superseded by the rescue board and the rubber duckie in the 1990s. In the US, however, lifeguards remained committed to the flotation device which was swum out to the victim, particularly after the invention of the Peterson Tube in 1932.
Preston "Pete" Peterson, 19, was already California's best boardrider and a design innovator and craftsman in both surfboards and life saving equipment for the Santa Monica lifeguards, where he worked. After the acceptance of his prototype tube, in 1935 Peterson produced an inflatable rescue tube with snap hooks moulded onto one end and a 14-inch strap on the other. He further improved his design in the late 1960s with the production of closed-cell foam rubber.
(A Noosa sidebar on the Peterson connection: By the 1960s, Pete and his diminutive Hawaiian partner Barrie Algaw had become the world's best tandem surfers, and in 1966 they won the tandem division of the world titles in San Diego, alongside our own Nat Young, who won the main event. Algaw later married surfboard builder Steve Boehne, and the two became America's leading tandem team for decades, until the arrival in the final years of the century of the dynamic duo of Bobby Friedman and Anna Schisler. At the Noosa Festival of Surfing's World Tandem Championships in 1999, Steve and Barrie were technical advisors and Bobby and Anna were competitors. Anna stayed on in Noosa where she is these days better known as Mrs Josh Constable.)
Australia, California and Hawaii have always led the way in surfboard design, so it is not surprising that they are also the three amigos of surf life saving equipment, nor that Pete Peterson's tube design should be reinvented in Hawaii and now be introduced widely in Australia.
Coffs Harbour City Council on the mid-north coast of NSW is leading the way, as Lifeguard Services Team Leader Greg Hackfath told Noosa Today last week:
"I believe that this project is a winner and would love to see it expand Australia wide. It has been very successful in Hawaii, expanded to mainland USA, South Africa and, since we have made our rescue tubes, Bellingen and Orange Councils have installed some and Bathurst Council is looking into them as well. We started the project after I attended the World Conference on Drowning Prevention in Vancouver in 2017. The Hawaiian Rescue Tube Foundation did a presentation on the units and how successful they have been. They haven't had a single by-stander drowning since installation."
The Rescue Tube Foundation, which began placing public access rescue tubes on some of Hawaii's most dangerous beaches, like the north shores of Oahu and Kuaui, in 2008, invokes the World Health Organisation's key points as it's reason for being:
• Drowning is the third leading cause of unintentional deaths worldwide.
• There are an estimated 236,000 drowning deaths globally each year.
• Drownings account for 7 per cent of all injury deaths.
Their operations have now spread across continental USA and Canada.
According to Coffs Harbour's Greg Hackfath, after an initial trial in 2019 at Sawtell, the council agreed to expand the project throughout every beach in the LGA (32 beaches, nearly 100 rescue tube units).
"We partnered with local surf lifesaving clubs, individuals and the Rotary Club of Coffs Harbour. The surf clubs and individuals are champions who report on our tubes regarding theft or damage (in three years, one tube has been stolen and one box damaged due to ex-TC Seth). Rotary is a vital partner in the project, their members have been instrumental in fund raising and finding the necessary champions and supporters to make this project a success."
Greg also emphasised the importance of all authorities working together.
"In our LGA, land management on the coast is shared between NPWS, Marine Parks NSW, Regional Parks NSW and State Parks. We gained the unanimous endorsement of all these authorities."
Swell events in Noosa, such as New Year's TC Seth, create heavy work for lifeguards and surf club patrols as swimmers defy heavy sweeps and rips, often mistaking the strong outflow for a safe haven from breaking waves. But the experienced surfers who ride our most dangerous breaks on the outer bays every swell see another clear and present danger – the increasing number of novice surfers who follow the experts like lemmings as they launch into dangerous whirlpools, and the increasing number of spectators who gather on rock ledges to watch the action close-up.
This is why the surfing community is calling for a rescue tubes program. And soon.