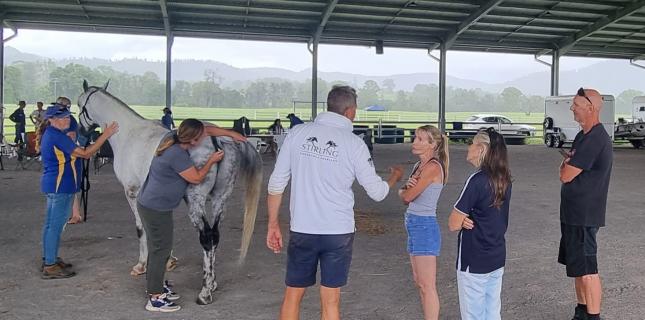 Contributed
The 2023 endurance riding season kicks off this month when the Stirling's Crossing Endurance Club holds its popular educational weekend at Imbil.
It is club's fifth such event, and will be held at the the Stirling's Crossing Endurance Complex in Derrier Road on the weekend of 28 and 29.
We anticipate that some aspects of the educational weekend will be on the Friday afternoon with members on hand to guide on setting up yards, and also instruction in how to trot your horse out for presentation to vets for gait assessment.
Stirling's Crossing Endurance Complex is the same location as the 2023 Tom Quilty Gold Cup in June.
The educational weekend is popular for horse riding enthusiasts that wish to learn about the sport from some of the most experienced endurance competitors in Queensland.
Riders are encouraged to camp out at the venue with their trusty steeds for the weekend, similar to an actual endurance ride.
They will initially receive details of what to bring when camping at a ride base, as well as bio security requirements to be completed in the 10 days leading up to an event.
During a series of presentations guest speakers will provide information ranging from horse welfare, training and caring for an endurance horse, as well as pre-ride activities such as the nominations process and presenting their horses for vetting.
Important details on riding the course, track marking and riding etiquette will also be included in the presentations.
Speakers are also keen to answer any questions participants might have on endurance as well as general horse care.
The club is organising a 10km and a 20km ride on the Saturday afternoon, and a 20km and 40km ride on Sunday morning.
These rides are designed to allow attendees to experience what happens at an endurance ride in what may seem to be a more relaxed environment, but must still comply with all endurance riding rules and with consideration of horse welfare.
The tracks will traverse through some of the roads and fire trails in the Imbil State Forest, with spectacular views of the surrounding countryside.  
Club members will be on hand at various checkpoints to offer assistance and advice where necessary.
Like many sports, endurance is only possible due to the many volunteers that give up some of their time to help out with each ride.
Most also say it's an opportunity to meet a host of friendly fun people that have a similar interest in horses.
If you have a horse, love the outdoors and would like to learn about the sport of endurance, contact the club about the educational weekend by emailing info@stirlingscrossingendurance.asn.au or on Facebook at Stirling's Crossing Endurance Club.