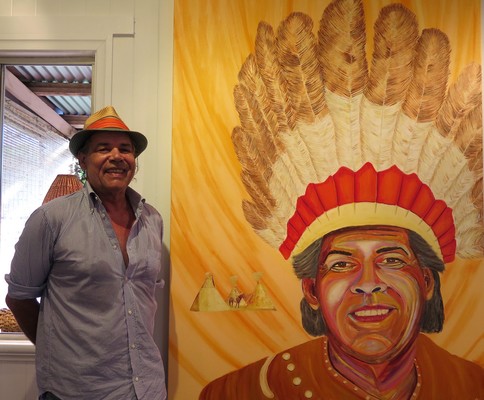 By Abbey Cannan
Local artist Stefan Koch unveiled his entry into the prestigious Archibald Portrait Prize to a crowd at his studio in Noosaville on Thursday 14 March.
Around 65 people attended the event to view Stefan's entry titled 'Self-portrait of a dreamer', a 1.8-metre-long portrait created on acrylic and mixed media on linen.
When describing the portrait Stefan said, "It may look as if I was still dreaming of being the boss, but my dream is about freedom."
"We should all have the freedom to be who we are and not bound by restrictions imposed by where you were born or which bloodline you belong to.
"Happiness is only achieved once you reach your own internal freedom and if we all can achieve internal happiness, the world will be a more tolerant, more peaceful, more intelligent and therefore richer place for all to live."
The winner of the prize is announced in May with a first-place award of $100,000, although Stefan said he would be happy to just be a finalist with his portrait displayed in the Art Gallery of New South Wales.
Stefan has lived with his wife in Noosa for 35 years after spending his earlier years attending school in Rome and University in Switzerland.
Stefan said he has lived around creative people and colours most of his life. His cultural imprint in Rome, living in a bohemian household and being surrounded by a city full of art and antique history has helped mould his creative talent that inspires him today.
"I've been painting for a very long time as I come from a family of artists," he said.
First awarded in 1921, the Art Gallery of New South Wales' Archibald Prize is an annual open competition that is judged by the trustees of the gallery. Finalists of the competition are displayed in an exhibition at the Gallery.
The prize is awarded to the best portrait, 'preferentially of some man or woman distinguished in art, letters, science or politics, painted by any artist resident in Australasia'.