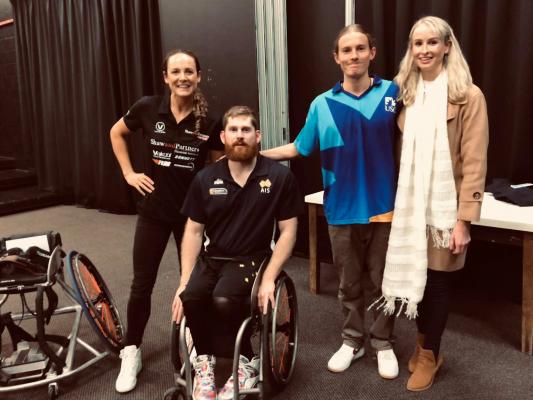 Noosa District State High School senior students have learnt about overcoming adversity, aiming high and developing resilience through inspirational speeches.
The speeches were delivered by Noosa Mayor Clare Stewart and three University of the Sunshine Coast athletes including, ocean ski world champion Jordan Mercer, wheelchair basketballer Steven Elliot, and cross-country Queensland representative Ben Tacey.
Noosa Mayor Clare Stewart began the proceedings on Thursday afternoon, sharing her story of survival and determination following a horrific accident twenty years ago.
"I was working as a graduate in Sydney at KPMG, living in Bondi Beach, jogging ten kilometres every day. I crossed the road at the pedestrian crossing, as I did most days, and a garbage truck, that was doing its rounds, collected me," Mayor Stewart said.
The Noosa Mayor was trapped under the vehicle for thirty-seven minutes and was conscious for the duration of the rescue efforts by the emergency services.
"The paramedics put towels over what was left of my legs, because they didn't want me to see the mess, blood and tissue," Mayor Stewart said.
The Noosa Mayor advised students to never let adversity define who they are or who they become.
Ocean ski world champion and Iron Woman Jordan Mercer spoke to the students about her career journey from a gymnast to surf lifesaving, paddle boarding and AFL.
Ms Mercer views her injuries and setbacks she has faced along the way as positives that have helped her to achieve her proudest moments.
"They've made me stronger and wiser," Ms Mercer said.
She told the students that it was all up to them to decide whether to make an experience negative or whether it could become something that changes their life for the better.
Wheelchair basketballer Steven Elliot told the students how transverse myelitis changed his life forever with the condition causing his immune system to attack his spinal cord and leaving him with limited movement from the waist down.
He spoke of his love of the rough and tumble of wheelchair basketball and he has plans to compete at the 2021 Tokyo Paralympic Games.
Mr Elliot showcased his speed and agility in his custom-made basketball wheelchair, taking on cross-country Queensland representative Ben Tacey and Year 12 student (and keen runner) Luke Gregory.
Cross-country runner Ben Tacey encouraged the students to adopt positive attitudes.
"The mind is a powerful tool. What we invest a lot of time thinking about can end up as our result. That's why I don't ever think about having a bad race," Mr Tacey said.
Mr Tacey told the students that preparation is crucial for a positive mindset.
The senior students felt empowered and thoroughly enjoyed the presentation.
Year 11 student Jannali Shorey said the speakers provided the students with practical and useful advice.
"We might not all become athletes, but what they had to say was very poignant and has come at a very helpful time for us. They were all engaging, friendly and relatable, and I was super excited to recognise Jordan Mercer on my Nutri-Grain cereal box," Miss Shorey said.