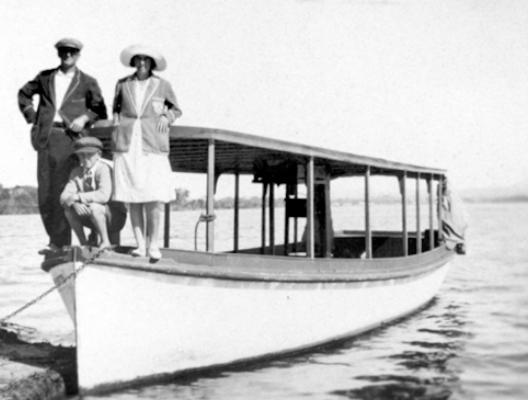 With Tewantin's Parkyn Hut tourist information celebrating its 20th anniversary this week, PHIL JARRATT looks at the Parkyn family legacy in this excerpt from Place of Shadows, The History of Noosa:
In the decade between the end of World War I and the opening of T M Burke's bridges at Doonella and Weyba Creek, fishing and tourism became locked together in a death grip of economic survival, held together by the two families who ruled the waterways — the
Massouds and the Parkyns.
Since Ted Massoud first bought the Riverlight, it had fished by night and ferried schoolkids up and down the river by day. After the war, it also became a ferry for Noosa Heads tourists arriving at Tewantin, and for daytrippers wanting to explore the waterways or be delivered to the Noosa Woods for a picnic.
These duties the Massouds shared with Jack Parkyn and his sons, Howard and Cloudsley, who, in addition to having the main fishing wharf at Tewantin and leasing the riverfront at Munna Point as a campground, owned the Miss Tewantin, the sexiest boat on the river. It was the Parkyns who got the better of the trade in arrivals for Noosa Heads, particularly after the Donovans took over the Royal Mail Hotel. Young Lionel Donovan would pick up the tourists from the train at Cooroy in his latest gleaming Tourer, drive them to Tewantin for a refreshing drink or an overnight stay at the Mail, then hand them on to the Parkyns, who would motor them down the river to the Noosa inlet in the Miss Tewantin and carry their bags along the sandy track to the Donovans' Laguna House.
By 1927, the connections were impeccable. It took approximately six hours to make the 150-kilometre journey from Brisbane to Noosa Heads, but it could be done in one day, barring train delays. Travellers would catch the 8.10 am North Coast Mail to Cooroy, arriving just after midday, when they would be met by Lionel Donovan for the 45-minute drive down the newly sealed road to Tewantin, arriving at the Royal Mail "in time for luncheon". After lunch, the Miss Tewantin would pick them up from Parkyn's Jetty for the leisurely cruise
to their final destination.