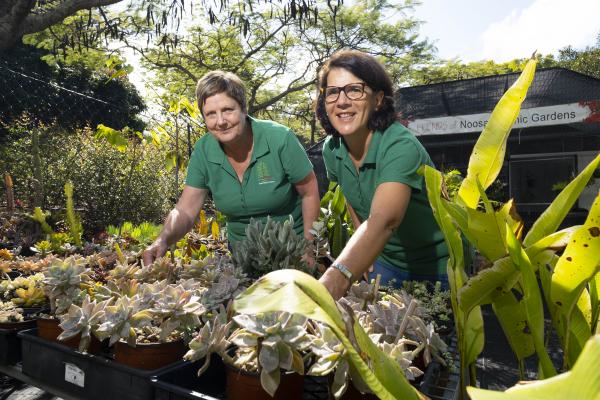 While nurseries all over Noosa are starved for stock after a lockdown-inspired gardening frenzy over winter, The Friends of Noosa Botanic Gardens are gearing up for their first plant sale since March, and it's looking like the biggest ever.
With more than 5000 beautiful indoor and outdoor, lush and lovely subtropical plants, including many rare and collectable species, literally "bursting the seams" of the propagation shade house, the Friends will hold the first of a series of Covid-aligned monthly sales next Saturday, September 26. Due to social distancing requirements, only six customers can be in the shade house at one time, so the sale is strictly by online bookings only, with customers being staggered in groups between 8am and 1pm.
Friends volunteer and spokesperson Sue Harrington said that while entry has to be limited for each one, the sales will continue on a monthly basis through summer until there is breathing space for propagation again. "It goes without saying that we also could do with some proceeds for our coffers," she added. "We are justly proud of the contributions The Friends have made to the gardens over the years. Lately we are busy providing permanent signs for plant IDs."
Noosa Today's horticultural expert gave the huge plant stock the once-over and came out salivating over the gardenias, purple waffles, philodendrons, star jasmines and nodding violets, but given another half hour, she would have been drooling over many more species.
And if you're out at the gardens for the sale, why not take some time to explore the eight hectares of manicured gardens and features like the lily pond and Greek-style amphitheatre. The Friends will also begin their free one-hour springtime guided walks from October 18, again, online bookings essential.
Noosa Botanic Gardens, 370 Lake Macdonald Drive, Lake Macdonald.
Bookings at https://noosabotanicgardensfriends.com/event/by-appointment-only-plant-sale-at-propagation-facility/