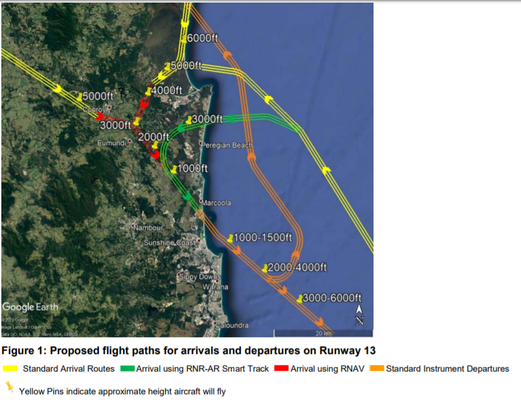 By Abbey Cannan
A petition has been started by community member Annie Hart requesting help from the Noosa Council to make a change to the proposed flight paths for the Sunshine Coast Airport on Monday 15 April.
The petition on change.org currently has 380 signatures and is requesting that the petition is to be presented to the whole of Noosa Council at its meeting of 18 April.
The Noosa Council has been contacted for comment.
The petition states, "The proposed new flight paths of the Sunshine Coast Airport have the potential to significantly impact on the lifestyle, environment, property values and the image of the Noosa Shire. We are concerned that the reasons that we have chosen to live in Noosa will be compromised."
The petition is requesting the Noosa Shire Council to advocate on behalf of impacted families and communities by:
"1. Seeking a one month extension of the feedback submission period to the 31st of May 2019 from Sunshine Coast Regional Council and Airservices Australia. The current timeframe is insufficient to properly consider and prepare submissions on the complex Environmental Impact Statement, its associated documents and information."
"2. Preparing a comprehensive Council submission into the impacts on the lifestyle, environment, property values and the image of the Noosa Shire as of result of the proposed flight paths."
"3. Requesting Sunshine Coast Regional Council to conduct an EIS for Lake Weyba, Noosa Nationals Parks, and Coastal Dunes of Castaways and Marcus Beach as the current EIS did not consider this."
"4. Work with Sunshine Coast Regional Council to investigate new flight paths north of the project area to minimise environmental and social impacts."
The community engagement for the proposed flight paths is being run by Sunshine Coast Council, Sunshine Coast Airport and Airservices Australia. All feedback will be compiled and considered by Airservices Australia in finalising the airspace and flight path design. Submissions close 30 April 2019 and community members can make a submission to Airservices either at a consultation session, or online at https://feedback.emsbk.com/ asa.
Link to petition on change.org: https://www.change.org/p/noosa-shire-council-noosa-council-we-need-your-help-with-the-proposed-flight-paths-proposal?recruiter=941230894&utm_source=share_petition&utm_medium=copylink&utm_campaign=share_petition&utm_term=share_petition&fbclid=IwAR3-tW03ExG8l41wllScFgolM1bEWru9qwMn5Alpq1_ubgjOMLVT7PAY8Ik.