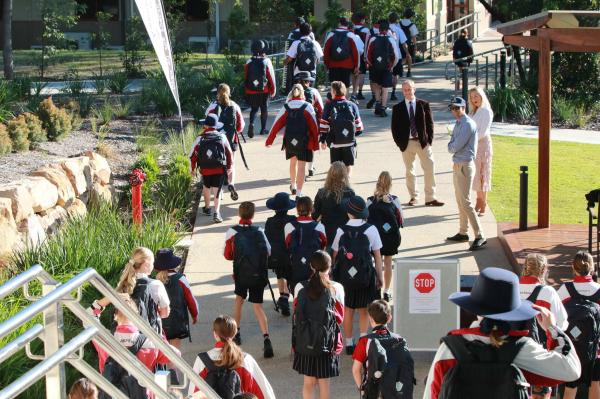 By Abbey Cannan
Although many parents look forward to sending their kids back to school in the new year, it can be daunting for some as they fork out hundreds of dollars in uniform fees.
Prices are beginning to become unaffordable for many parents in 2021, as we compare uniform costs of public and private schools in the Noosa region.
For a boys full uniform at Noosa District State High School, the cost can reach up to $230 which includes: shorts, polo shirt, fleecy jacket, tie, hat and a formal white shirt and shorts.
In comparison, the cost of a senior boy's full uniform at St. Andrew's Anglican College can exceed prices of $680.
This cost includes the full price of a senior boy's uniform, which according to their website, they are required to have: a Day Uniform (White day shirt, Navy shorts, Formal hat), a Formal Uniform (Blazer, White long-sleeved shirt, Senior tie, Navy trousers, Black belt) and a Sport Uniform (Red polo, Sport shorts, Bucket hat).
A parent sending her child into one of Noosa's private schools said she had been told to expect to spend $1000 on school uniforms.
"It's always the initial outlay of setting up the uniform that is the most expensive part, and then the maintenance each year is normally just adding a piece here or there," she said.
"Obviously being a private school, they have a winter uniform, a summer uniform, a sports uniform and a formal uniform. So there is a lot of uniforms to purchase and they are all very expensive, particularly the blazers."
Pip Inglis, who has three sons attending Noosa District State High School, said she had spent $3862 overall on getting her kids ready to go back to school.
"That's for uniforms, shoes, book packs, laptops, school bags and device insurance," she said.
"I think the cost is too expensive for a public school. I think state schools should not be charging that much. If you have more than two kids, it just blows right out."
As a mum of two sons at Sunshine Beach State School, Angela Van BoxtelI said it was easy to get her boys back to school as she kept it simple.
"My sons each have one piece of each school uniform," she said.
"We're lucky to live in Queensland where your washing dries in mostly ten minutes. At my sons school, the type of uniform changes every two years, so for my son going into Year 11 it meant two new shirts. That's 80 dollars for two years, divided by 80 weeks of school, over two years it would be a dollar a week. My son in Year 9 can still use the same clothes as last year. I think that is very affordable to put $1 away each week for each child."
Angela said we were lucky to have school uniforms in Australia, unlike her previous home in the Netherlands.
"In the Netherlands we did not and the kids already from age four start asking for branded clothes and having to catch up with the latest fashion," she said.
"That is expensive and no peace of mind or not having bargaining about fashion with your sons in the morning about fashion is priceless."
Ruby Sillato of 'Ruby Noosa' said she had to budget every year for this time of the year.
"I consider that between school shoes and uniforms and new items like water bottles of lunch boxes, I spend around $500 for both children," she said.
"Uniforms can be bought second hand but often need two brand new ones. Public school T-shirts are $30-35 each but I often buy them second hand during the year which can be just $5 each.
"Budgeting is the key so at the start of the year I'm not overloaded after an already very expensive Christmas and summer holiday."