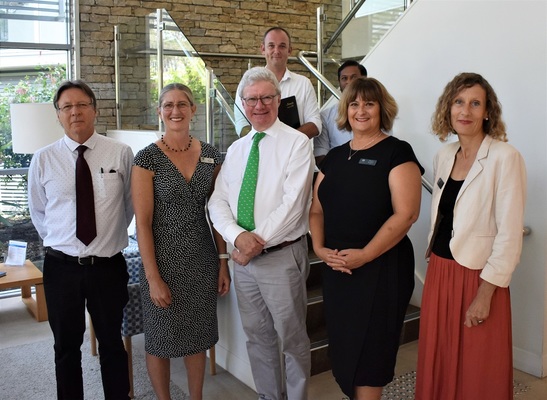 Queensland's Governor, Paul de Jersey, and Noosa Mayor, Tony Wellington, visited residents at NoosaCare's Carramar site on Wednesday 19 February to discuss issues relating to the aged care sector and hear first-hand about their fire evacuation experience.
All 142 residents were successfully evacuated from Carramar during Noosa's bushfire crisis in November last year and many had stories to tell the visitors.
According to NoosaCare CEO, Megan D'Elton, the Governor was keen to understand the emergency procedures but also wanted to understand how staff, residents and volunteers had coped with the challenges of the fire emergency and supported one another.
"Our residents were amazing during the evacuation. They were calm, practical and good-humoured and really showed those of us who are a little bit younger just what resilience is all about," Ms D'Elton said.
"It was a terrific honour to host the Governor, Mrs de Jersey and the Mayor at Carramar and show them how we do things here, particularly our support for people living with dementia. We were able to highlight our above-average staff to resident ratios and walk them through our beautiful gardens."
The Governor spent time chatting with four of NoosaCare's centenarians and presented them with a Governor's coin. He also met with Mary Gregson – a resident of NoosaCare for nearly 20 years – and other residents, staff and volunteers involved in the evacuation.