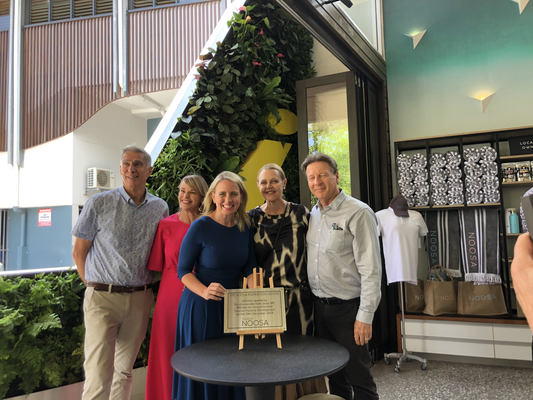 By Rose Astley
Get inspired and informed with Hasting Street's new information centre.
The Hasting Street Information centre recently underwent a stylish refurbishment and name change and was yesterday opened officially as the Noosa Inspiration Centre by Tourism Minister Kate Jones.
The new look information centre hopes to welcome, inform and inspire all visitors to Noosa.
Featuring a mural painted by a local Noosa artist, as well as a four metre installation of greenery as a nod to Noosa's biosphere, the centre is now an exciting new hub for visitors to get a true taste of what Noosa has to offer.
Stepping inside, visitors will be treated to a selection of locally made products available to purchase from Big Heart Bamboo, Noosa Black Coffee, Barenut Macadamias, Hello Honey and much more.
Ms Jones spoke on the re branding of the information centre and is hopeful that this investment will allow for great returns.
"I think calling it an inspiration centre is a great idea because Noosa is one of the most recognised and loved brands anywhere in Australia, and the fact that you now have this amazing interactive space where people can come have a deeper experience.
"This is an amazing investment by tourism Noosa- I know that this will encourage more visitors to come, stay longer and spend more in this local economy, which means more jobs for local people.
"We know each and every year around 200,000 people come through the visitor centre, and now that we have new model facilities right in the heart of Hasting Street we expect that number to grow," Ms Jones said.
Ms Jones, along with Tourism Noosa's CEO Melanie Anderson, Independent Member for Noosa Sandy Bolton, Noosa Mayor Tony Wellington and Tourism Noosa's Chair Drew Pearson were all present for the cutting of the ribbon, officially opening the trendy and inviting new space.
The Noosa Inspiration Centre will be open daily from 8am to 5.30pm every day except Christmas.