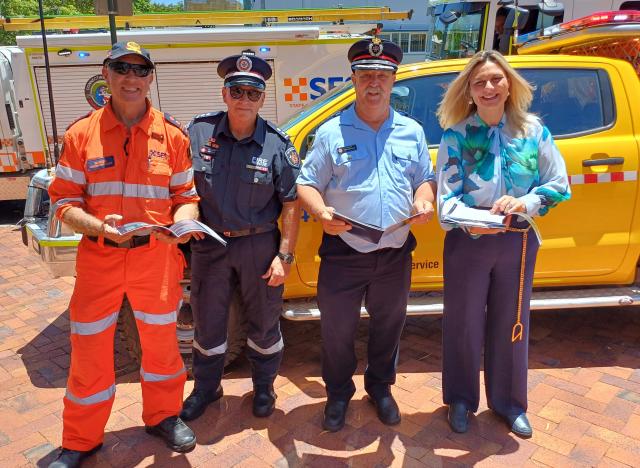 Noosa shire residents need to be prepared for all natural disasters this storm season – not just bushfires.
That's the message from Mayor Clare Stewart, who today launched the updated Emergency Action Guide with help from emergency services partners, QFES and SES in front of Noosa Council chambers.
"We need to be Disaster Ready," she said.
"While most of the focus is on bushfires now, it's important that property owners still look to clean up around the yards, check gutters and have a survival plan in place."
Disasters, such as floods, fires, extreme heat and cyclones, require different methods of action and preparedness.
"Residents should look to have a number of survival plans in place to know what they are going to do, depending what the weather event is," Cr Stewart said.
Council has revamped and updated its Emergency Action Guide, which can be collected from any council library, Noosa Leisure Centre, the J Noosa or from the Tewantin Customer Service desk.
It can also be downloaded on council's website.
"The new 74-page guide is a must have and provides important information on every type of disaster, tips on what to do and a list of important contacts," Cr Stewart said.
"We can't control Mother Nature, however we can certainly all prepare as best we can – it starts at home with people preparing their properties to lower their own risk," she said.
In conjunction with Noosa SES and QFES, Council's Disaster resilience officer Ian Williams continues to visit schools and aged care facilities recently to spread the prepare now message.
"These engagements have been very productive and the more we can do prior to an emergency or disaster, the better shape we will be in to handle the situation," he said.
Residents can find what they need to know on Council's online Disaster Dashboard during disasters for information such as road closures, power outages and weather updates.
"From the dashboard residents can also sign up to Noosa Alert to receive disaster notifications," Cr Stewart said.
To access the flipbook of the guide, visit noosa.qld.gov.au/community/disasters-emergencies