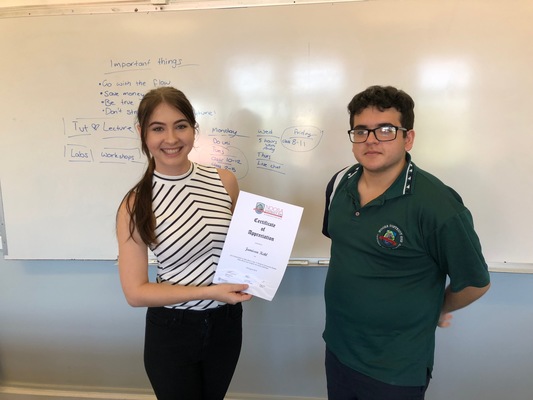 Noosa District State High School 2018 graduate Jamison Kehl visited a Year 11 Social and Community Studies class to share insights into life post-school.
Jamison shared with the students some important tips and advice, including saving money, going with the flow and she told the Year 11's not to worry too much about their future.
The Year 11 students were interested and excited to hear about Jamison's music career, which is taking off, with her next gig at the opening for the Sunshine Coast Lightning netball team.
Jamison told the students to make the most of their time at high school, and to have fun as Year 11 and Year 12 fly by very quickly.
"Also, don't lose sight of who you are. Always be true to yourself and you will go far," Jamison said.
Life studying and working at the University of the Sunshine Coast (USC) was explored in detail, with Jamison a proud advocate of her university also working as a USC ambassador.
"I really enjoy my role as a USC ambassador. I get to speak to a range of people – all different age groups – and every day I take on different challenges. It doesn't really feel like work, because I really like doing what I do," Jamison said.
The students thoroughly enjoyed Jamison's presentation, finding her inspirational, with her words assisting to mitigate fears about university life.
Year 11 student Amy Morely said Jamison was the best guest speaker.
"She spoke really well. I really wanted to ask her to sing, but I was too nervous," Amy said.