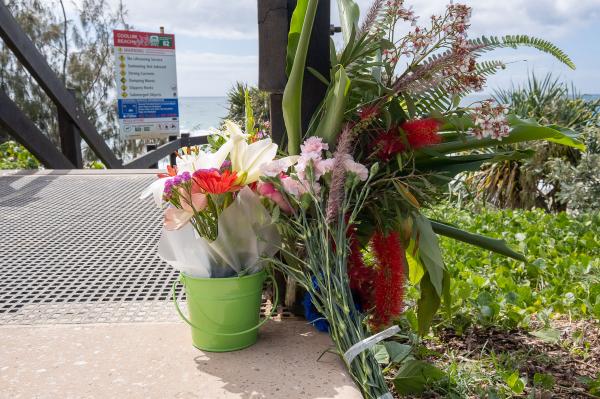 By Abbey Cannan
In a sad start to the school holidays, a woman has drowned in front of her family at an unpatrolled beach south of Coolum.
Natasha Thorpe, 34, of Toowoomba was swimming with her eight-year-old daughter at First Bay on Monday morning when the pair were dragged out to sea.
Despite her daughter safely making it back to shore, Natasha's body was found shortly after floating in the water by two surfers who sprung into action to attempt to save her.
A Surf Life Saving Queensland spokesperson said an off-duty lifesaver assisted in performing CPR until paramedics arrived.
"Lifeguards who were setting up patrol at a nearby beach also assisted," a spokesperson said.
Sergeant Peter Blake from Coolum Police Station arrived on the scene shortly after paramedics and was faced with a confronting scene and a distraught family.
"For such a tragic event to take place in front of their eyes, it's tragic," Sergeant Blake said.
"Especially for the two surfers and the ambulance officers that performed CPR for so long in very difficult circumstances. Drownings are just terrible."
Sergeant Blake said the drowning occured on the first day of school holidays and it brought home the flag safety message.
"Whether it looks safe or you think it's safe, it might not be and the safest way to go to the beach is to swim in between the flagged areas," he said.
He said there was a bit of swell running with a sweep down the beach and a rip running at the northern end when the drowning occurred.
"If you're an experienced surfer you would know that those conditions are fairly dangerous because the sand bank is there one moment and then gone the next," he said.
"For an inexperienced beach-goer the water does look very inviting, but the sweep can just knock you off your feet and drag you out to sea in moments."
Police are hoping to speal the surfers who attempted to save Natasha's life.
"What they did was brave and they did such an excellent job that while the ambos were setting up equipment, they continued to perform CPR," he said.
"Unfortunately they left before we got there and we don't know who they are.
"They would be feeling it the most because I've been a policemen for 30 years and they were obviously two young men and we just want to catch up with them and make sure that they are okay.
"If they could contact myself at Coolum Police Station that would be great."
A SLSQ spokesperson said they wanted to extend their thoughts and sympathies to the victim's loved ones.
"SLSQ will work with relevant authorities including the Queensland Police Service, Queensland ambulance Service, and the Queensland Coroner," SLSQ said.
"[We] remind all swimmers to only swim between the red and yellow flags at patrolled locations."
Police will prepare a report for the Coroner.