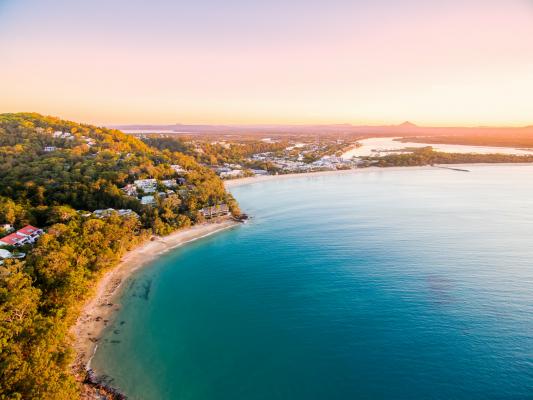 The release last week of the latest report by the United Nation's Intergovernmental Panel on Climate Change has not necessitated any change to the Climate Change Response Plan adopted last week by Noosa Council.
It sets out actions for Council and the community to boost Noosa's resilience to hotter temperatures, bushfires, extreme weather events and other climate change impacts.
Developed with community input, the plan also includes actions to slash greenhouse gas emissions.
"Zero Emissions Noosa Inc congratulates Noosa Council for adopting this Plan," Zero Emissions Noosa (ZEN Inc) president Anne Kennedy said.
"It provides a roadmap for us all in the Noosa community to do our bit locally to reduce our carbon emissions to help deal with climate change. ZEN Inc looks forward to working with Council to implement this Plan to help the Noosa community to reach its target of net-zero emissions by 2026."
Deputy Mayor Frank Wilkie said renewable energy, sustainable transport, waste reduction, energy efficiency and sustainable agriculture were just some of the issues the plan puts firmly on Council's radar.
"Adopting this plan is a significant milestone for Council. It's a blueprint for how we tackle a wide range of climate risks as well as reduce our community's carbon emissions and costs. It is future focused and identifies opportunities for the shire," Cr Wilkie said.
A new community reference group – soon to be established – will help implement the plan's actions.
"Importantly the plan considers not only the challenges climate change presents, but also the economic, social and environmental opportunities, such as fostering clean technology industries and employment, for example.
"A proactive approach also ensures we're tackling issues like providing a climate-resilient built environment."
The Climate Change Response Plan sits above the Coastal Hazards Adaption Plan (CHAP), which is at an advanced draft stage following further consultation with key stakeholders and the public.
"Whereas the CHAP deals with just one aspect of climate change, the Climate Change Response Plan goes much wider. It provides important direction on how we can all do our bit as a community to tackle climate change," Cr Wilkie said.
"It builds on the work Council has been doing since 2016 to slash its own operational emissions to net-zero by 2026."
Environment and Sustainable Planning Director Anthony Dow said Council was pleased to receive $310,000 from the state government to collaborate with fellow south east Queensland councils on climate change resilience pilot projects.
"We look forward to working together with our SEQ neighbours to develop a set of robust region-wide actions that benefit all of our communities, while raising awareness of the climate risks and their implications," Mr Dow said.