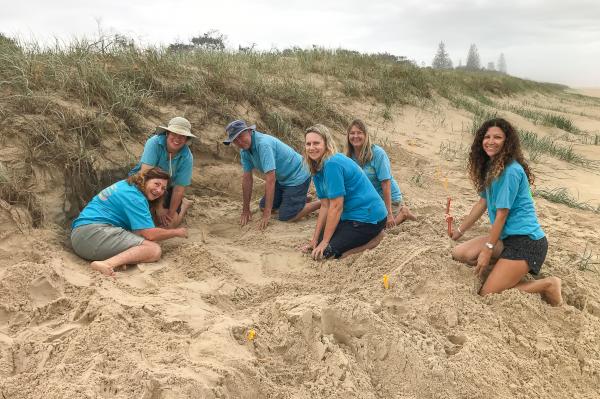 Margie Maccoll
The turtle nesting season officially began in Noosa on Monday morning when beach walkers notified Coolum and North Shore Coast Care of the telltale turtle tracks and they verified the nest findings.
Group president Leigh Warneminde said the nest, located just south of Peregian Village, was the second sighted this season on the Sunshine Coast, with the first one discovered a couple of days earlier at Yaroomba. Their timing is spot on, with the first nest last year discovered on 24 November.
Both nests were from green turtles, listed as vulnerable, with the endangered loggerhead turtles still to arrive.
Leigh said the care group would this year be measuring the distance between the turtles tracks to and from the nest site as part of their research to determine the impact of urban lighting.
"The further they walk back, the more energy they expend," she said.
Calculations will also be used to track the passage of hatchlings which are "programmed to go to the nearest light on the horizon".
"If they get sidetracked by the light, they can go the wrong direction all together."
The delay for the hatchlings in reaching the ocean can have dire consequences, leaving them exposed longer to predators and wasting the energy they need to make their way to the East Australian Current that carries them on their life journey.
Residents are encouraged to turn off outdoor lights and dim inside lights after 8pm to assist the turtles while the eggs are laid from November to February and hatching that commences six to eight weeks following.