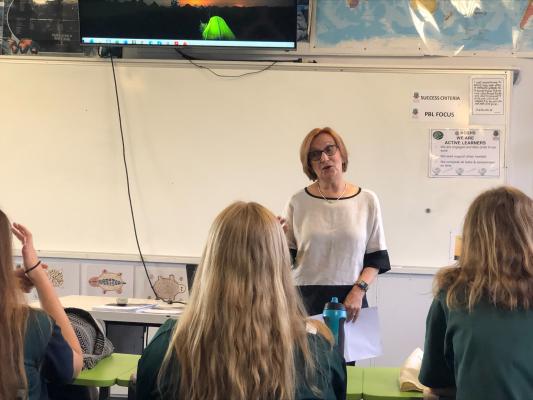 Noosa District State High School's longest serving teacher, Elizabeth Garbacz, visited a Year 11 Social and Community Studies class on Monday to share her insights into the teaching profession.
Recently retired Ms Garbacz was a drama teacher and head of department at NDSHS for 40 years, as well as a student of the school and the parent of three children who also attended the school.
Ms Garbacz made an astonishing contribution to the school and was integral in the 50 year celebrations of the school, held two years ago, which helped many past students reconnect with former peers and teachers.
The student services department at the Cooroy Campus was able to set up restorative practices and the management and fine-tuning of the uniform and behaviour policy with Ms Garbacz's firm, but kind attitude to rules, routines and procedures at the school.
Ms Garbacz was influential in shaping NDSHS's behaviour management and uniform policy; she was heavily involved in school musicals and the performing arts faculty; she coordinated ski trips; and provided support and assistance to students in her role as Head of Student Services.
"Noosa High has been such an important part of my life," Ms Garbacz said.
Ms Garbacz's three children followed in her footsteps, all completing their secondary education at the school, as their mother did.
Words of wisdom and advice were shared by Ms Garbacz, who told the students some of the life lessons she took on as an educator for 43 years.
"What we do as teachers is so important in sharing and guiding our young people," Ms Garbacz said.
The students were privileged to take on board her abundant wealth of life and teaching experience, knowledge and expertise, which she also shared throughout her time at the school.
Ms Garbacz advised the students to always look for opportunities to keep learning, developing and becoming better people.