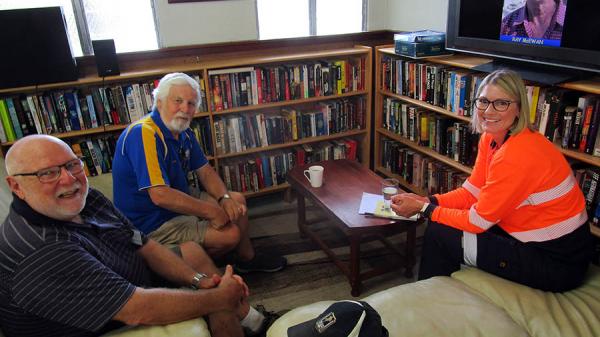 One of Unitywater's old laboratory buildings is used to analyse something pretty special these days – the bond between mates.
Noosa Men's Shed started to use some of Unitywater's buildings at the Noosa Sewage Treatment Plant in 2014.
Noosa Men's Shed president Steve Phillips said the space, along with all the other men's sheds across the country, provided a place for men to meet and forge friendships.
The group also encouraged good health and contribution to the community.
"Many men don't talk about feelings and emotions and do not take an interest in their own health and wellbeing," Mr Phillips said.
"This results in them being less healthy and suffering more from loneliness, isolation and depression."
Mr Phillips said the group aimed to change this.
"Becoming a member of a Men's Shed provides a safe and busy environment where men can find many of these things in an atmosphere of old-fashioned mateship," he said.
Masculinity and men's health were the focus this International Men's Day, on 19 November.
The day aims to bring to light social issues that men and boys face, including the startling statistics that three out of every four suicides are men and men on average die six years earlier than women.
Unitywater acting chief financial officer Katherine Gee said it was so important that men had access to groups that encouraged skill-building, community connection and the odd cuppa.
"This group is making a difference to men's quality of life," she said.
"Even better, their initiatives like fixing old bikes and donating them to schools for cycle safety lessons means positive experiences are spreading across our whole community."
Mr Phillips said the former water testing lab became the group's clubhouse and a disused chlorine room housed a woodshed.
Since then, the group has undertaken major upgrades to the site, installing gardens, a metalwork shed, bee hives and much more.
"We are fortunate that because of having been granted so much space by Unitywater, our shed offers multiple opportunities for men to interact with other members and to learn new skills beyond basic wood and metal working," Mr Phillips said.
"Members can participate in organic gardening, aquaponics, leather work, bee-keeping, electronics, and a studio for our more artistic members. We even have our own rock band. And most recently, we have daily exercise work-outs in our health and activities centre."