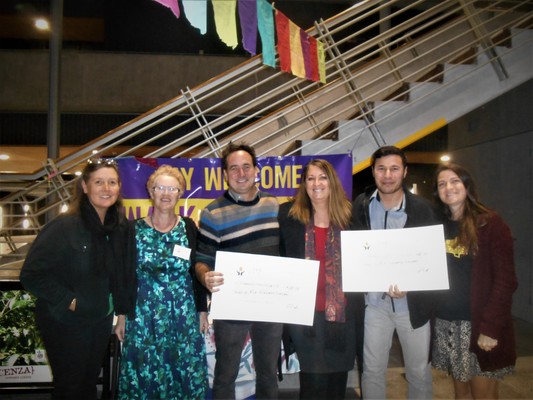 Last Wednesday, Noosa Welcomes Refugees hosted a screening of the award winning documentary 'Mary meets Mohammad' at The J as part of the Refugee Week Community Film Festival on the Sunshine Coast.
The free event, which sold out, aimed to raise community awareness of issues facing refugees and people seeking asylum.
The film highlighted the change in Mary's attitude to refugees, from animosity to a detention centre being built in her community to forming a close friendship with one of the young men, who comes to see Mary as his Australian grandmother.
After the film, a short Q&A session was hosted by Gabby Sutherland of NWR and a young refugee. The audience was clearly affected by both the film and the presence of someone with first-hand experience of Australia's refugee policy.
"The film was a good mix of personal stories and facts. The humour offset the hard realities of what refugees go through and how badly many Australians view them. We came away resolved to speak out more openly to friends and acquaintances about the issue and now have some more facts to back us up," audience members Fran and Bruce Bate said.
Terry Walton, also in the audience agreed. "The film was simply charming and evocative. The cruelty and the alarming consequences of such a state sponsored system depicted, and the presence of your observer, helped it become more real for us," he said.
The event was also an opportunity to raise funds for refugee causes. A raffle was held and the first prize was generously donated by NOOSA alive! President Andrew Squires. Fittingly the prize was a double ticket to a performance of "A Migrant's Story" during the NOOSA alive! Festival in July.
The funds raised throughout the Festival came to over $1200. Two cheques for $500 for the Cisarua Learning Centre in Indonesia and the Refugee Council of Australia were presented at the final Festival event to Refugee Week Ambassador Muzafar Ali and film director Jolyon Hoff. Remaining funds will be donated to the Asylum Seeker Resource Centre.
The Sunshine Coast Refugee Action Network coordinated the Community Film Festival, which included five different films screened at seven venues across the Coast, including Maleny, Caloundra, Buderim, Sippy Downs and Nambour, as well as Eumundi and Noosa.
Refugee Week is an initiative of the Refugee Council of Australia which has been celebrated nationally every year since 1986 and includes World Refugee Day on 20 June. The aim is to create better understanding between different communities and to encourage successful integration, enabling refugees to live in safety and to continue making a valuable contribution to Australia.