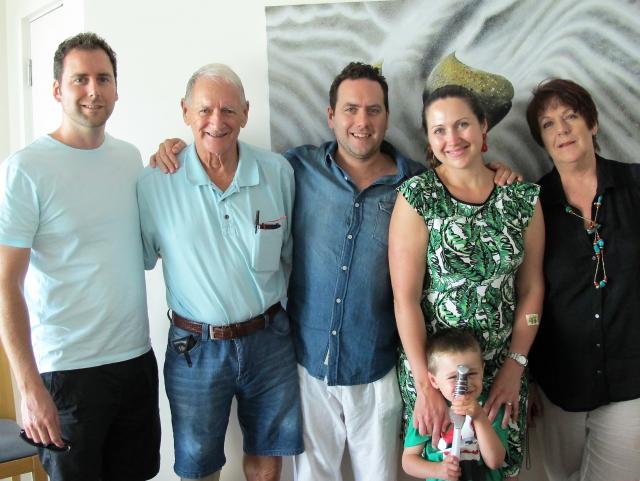 Ron Lane
When we live in a time of crises, there are always lessons that we can learn.
In our present situation there is definitely one in particular of which we should all become more aware and that is of those who volunteer to work in essential services. In particular those whose duties will place them in harm's way.
All communities have such men and women and, in some cases when age has them living in retirement, they finally pass on, it is only fitting that their service and awards should be acknowledged.
Such was the case on Friday 14 January when life members and old boys of the Noosa Heads Surf Life Saving Club were notified by a family member that Mervyn William Cummings, life member had passed away. Mervyn, affectionally known to his club mates and community supporters as Spooty, was a much loved and respected member.
It was on a late Saturday afternoon in November 1959 that, along with a large contingent of mates from Gympie, he joined the club and staying together, they passed their bronze medallion examination in 1960.
He was awarded the club's highest honour, life membership in 1975 for his outstanding contribution to both his club and community. Working on the beach, he served as a patrolman then as a patrol captain. He also went on to become chief iInstructor, and in surf sports he represented his club rowing as a member of the senior boat crew.
On earning his instructors certificate, his work with the young rookies was also noted. This training of young members was a follow on from his days as an instructor as a Warrant Officer in the RAAF Cadet/ Reserve. Fellow Noosa clubmate and also former RAAF Cadet/ Reserve Officer Flight Lieutenant Ken Window served at the same time, on occasion at Amberley and Archerfield.
"Spooty was good at his job and his work with the cadets was such that he was highly respected. As a result of this he received the Cadet Force Medal, Air Training Corp for devotion to duty and long service."
Another close clubmate, former club vice captain and surf boat crewmate Jim Schofield said: ''Spooty was very dedicated and noted for his loyalty. We rowed and did patrols together and in his work with the juniors, showed great communication skills. His years in the surf club, his time with the PMG as well as his years of service to the Cadet/ Air Force Reserve showed him to be a man of dependability and loyalty – everything you could ask for in a rescue organisation such as the Noosa Surf Life Saving Club.''
When it came to competition, his love of the challenge one receives when racing surf boats in big seas stayed with him throughout his career. In those days membership of a country surf lifesaving club like Noosa, with very few members, no money and a club house that was close to being condemned, was rough.
To cap it off discipline during basic training was regimented. It was indeed a life that was rough and ready.
When you walked through the doors as a trainee you learned quickly that all men are equal regardless of their occupation, be it as a brain surgeon or a builder's labourer.
In 1962 while working with two other clubmates, he became one of the founding members of what was to become the most sought after trophy within the history of the club, the Lobin Cup, the highest award for the lifesaver of the year.
Donated by the Lobin family, so prestigious did this award become, that if there was no outstanding member who stood head and shoulders above the rest, it was not to be awarded. It was not uncommon to see veteran members, on being named recipient, reduced to tears.
Mervyn's part in establishing this prestigious award, plus his life membership, will ensure that his name will never be forgotten in the annals of the club history.
Like the majority of veteran members in the late '60s, Spooty had a bit of a larrikin streak.
Well I remember that on occasions we were rostered to do the Saturday arvo chook raffles (this was after doing four hours on the beach) at the Reef Hotel.
He would, on completion of our fundraising, disappear out the back. Minutes later he would return to the bar with a floor bucket, drop the bucket on the floor, and standing on it, would much to the amusement of the bar manager, proceed to sing his interpretation of one of the top 40 songs. After a moment of stunned silence, the bar, which in those days was very cosmopolitan, would erupt into much cheering and laughter, followed with loud calls of, 'Good on yuh Spooty,'' and 'Cummo, you bloody beauty'. And another Saturday arvo party would erupt.
To the locals, here was a lifesaver dedicated to his job of beach safety and when involved with members of the community, had the ability and respect to create a feeling of goodwill. This was a clubbie who epitomised what a lifesaver should be while in performance of his duties.
On Tuesday January 25 at 2pm, wife Jacqueline, daughter Rebecca, sons David and Aaron, grandchildren and other family members, plus life members and long serving members of the surf club, gathered at Mt Thompson Memorial Gardens Crematorium, Holland Park, to bid a sad farewell.
His clubmates came to say goodbye to a mate who, in every way, had earned their love and respect.
So, to Spooty, we bid a sad Vaya Con Dios old mate, Vaya Con Dios. Proud to say as one of our people, he served our community.