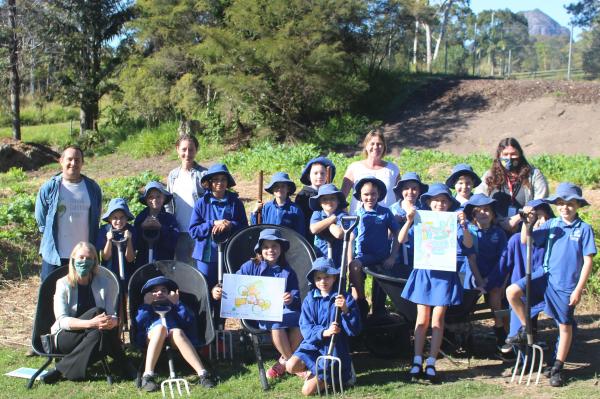 Future generations are set to benefit from Cooran State School's growing kitchen garden, thanks to a Seeds for Change grant.
The school has welcomed The Living Classroom Project into the school which teaches students the practices of permaculture, paddock to plate food production, zero emissions, sustainability, waste management and cooking/hospitality skills.
Each week students from Years 2 and 4 work within the garden, building, growing, and developing what is to become a magnificent school garden for generations to come.
The students were highly involved with the design of the garden and where it should be situated within the school grounds to ensure successful production of crops and sustainability of the gardens.
Noosa MP Sandy Bolton recognises the importance of this learning for the current generation and for the future generations to come.
Ms Bolton awarded Cooran State School with a Seeds for Change grant which has allowed them to purchase implements needed, including wheels, for their new kitchen garden.
"I am thrilled that we could assist with this wonderful project as they expand their permaculture produce with upcoming food tree groves and a new kitchen/tuck shop to prepare fabulous lunches from what they nurture," Ms Bolton said.
"Seeing the joy in the kids' faces as they explained to me how they have designed the garden to capture the morning sun was pure magic.
"This really is what these grants are all about. Planting little seeds of change which yield positive, healthy futures for our children and grandchildren.
"Their knowledge on swales and medicinal benefits of plants was incredible.
"I can't wait to come back to enjoy a 'garden to plate' session, and even try some of those healing plants."
Through the grant program the school received $500 which was spent on garden tools from local family business, Pomona True Value Hardware, who are fantastic supporters of the school and local community.
Cooran State School thanked Ms Bolton and the Seed for Change grants program for their contribution towards their garden project.
Leading on from the garden, the school is set to get a new purpose-built kitchen/tuckshop late-2021 into 2022. This new kitchen/tuckshop will be where the students can learn the culinary side of producing their own produce.
For more information about The Living Classroom Project visit livingclassroom.com.au