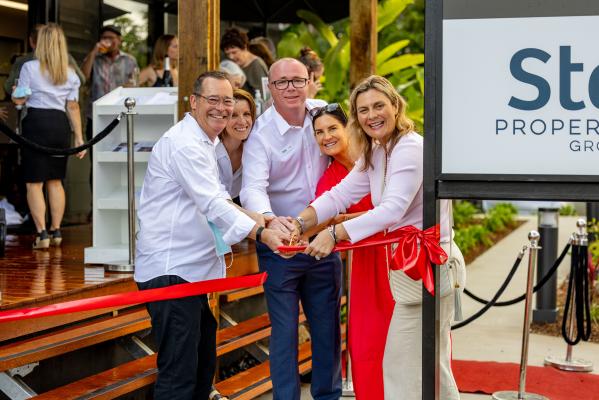 By Abbey Cannan
Noosa Mayor Clare Stewart has officially cut the ribbon to open Noosaville's newest iconic development at 195 Weyba Road.
The launch of the recently refurbished iconic Seven Flags building highlighted how two local businesses, Team Body Corporate and Stay Property Group, can work in collaboration and harmony to create economic, environmental and social value for the communities that they provide services to.
Both of these businesses are Noosa based and the building developers, Marianne and Andrew Davidson, emphasised the importance of maintaining the buildings heritage and history and were delighted to have an original Seven Flags employee at the launch.
Stay Property Group general manager Liam Kennedy and principal seller Liam Anlezark said they raised $10,350 in a charity auction on the launch day, with profits set to benefit local disability charity Sunshine Butterflies.
"We would love to say thank you to all our generous sponsors and the community for getting behind the event," Mr Kennedy said.
"This money is going to benefit all the members of this amazing charity and we cannot wait to partner with them again."
"Thank you to everyone who braved the questionable weather, namely Noosa's very own Mayor Clare Stewart, who cut the ribbon officially open the Seven Flags building at 195 Weyba Road, Noosaville," Mr Anlezark said.
"Also thank you to Noosa MP Sandy Bolton, Karen Finzle and Andrew Fairbairn for attending the event and making it a special day."
In addition to the money raised in the charity auction, Team Body Corporate donated $1000 to Sunshine Butterflies as part of a guess who's coming to the Neighbourhood. They also presented $500 to the lucky winner of the competition.