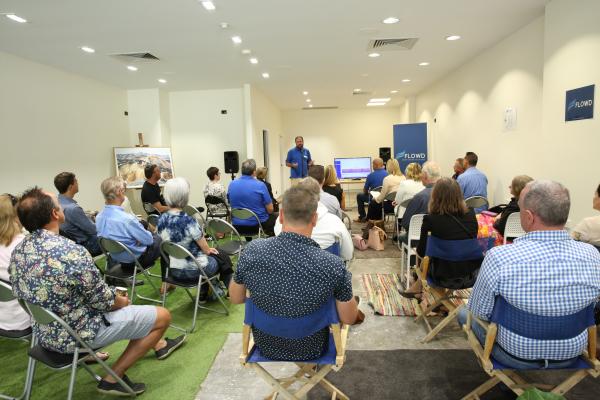 A new application technology, Flowd Smart Water Solutions, is being developed right here in Noosa.
The app will monitor water use and send alerts if there are water leaks, saving money on expensive water bills and damage.
The new water metering technology is being developed by Noosa-based Aspire Water Solutions, in collaboration with Sydney-based WaterGroup.
Flowd will be officially launched on the 28 September by Independent State Member, Sandy Bolton MP and Noosa Mayor, Clare Stewart.
Ms Bolton said, "On more than one occasion I have represented residents that have had the traumatic experience of receiving a water bill in the tens of thousands of dollars due a hidden water leak that they knew nothing about."
"Any way to prevent this happening and protect residents from what has been the cause of at times severe financial duress is very welcomed," she said.
"Just as welcomed, is that this is a Noosa 'made' innovation, showcasing our capacity to tackle issues with smart solutions, and the types of industries we can move into as part of expanding our economic base.
"Additionally, it is great to see that positive discussions are underway with Unitywater, and I look forward to a time where undetected leaks, and the ensuing stress to residents, is part of our past."
The Flowd app works with a range of available smart water meters and loggers.
Any water user can get their water use data sent to them through any device. If water use does not drop to zero anytime within a 24-hour period, a customer will get sent an alert for excess water use or a leak.
"The Flowd app is the solution to help people avoid bill shock, while supporting sustainability and creating some new local jobs along the way," AWS CEO, David Langdon said.
Clare Stewart said water conservation and sustainability are of major interest to Noosa Shire Council and its residents.
"I warmly welcome this investment into a new, Noosa-based IT start up behind the Flowd app," she said.
"It is a great example of how Noosa is attracting a diverse range of sustainable industries, with the support of our Local Economic Plan.
"Noosa is a perfect backdrop for companies like Flowd because we have access to great local and skilled talent.
"And where else other than Noosa Shire would you find such a great place to live and work if you are trying to attract and maintain skilled staff."
The Flowd app is already helping local residents avoid bill shock, including Sunshine Beach resident, Jill Jerrom, who recently had an excess water bill of $900 due to an undetected water leak.
"It is just a shock to get such a large bill because of no fault of our own," Jill said.
"There is no way we could have known about this leak before we got our bill, as it turned out to be under a concrete path in our back garden.
"We have now been one of the first households in Noosa to install a smart meter and sign up to the app to stop this from happening again."