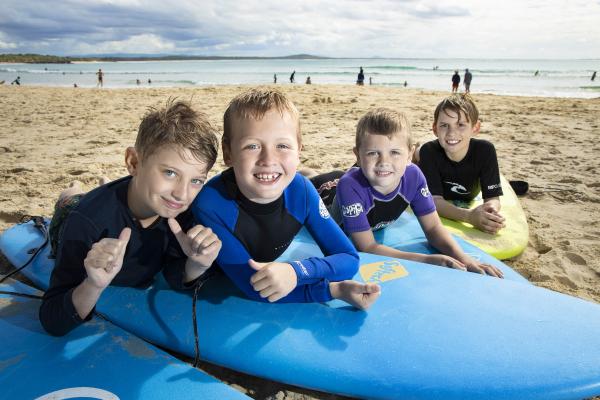 Visitors have flocked to regions across the Noosa Shire from Hastings Street to the hinterland for the school holidays and tourism operators couldn't be happier.
Tourism Noosa CEO Melanie Anderson said it was wonderful to see Noosa busy again with visitors "It is clear to see Queenslanders are enjoying a break and supporting tourism in our own state," she said. In Hasting Street, Gareth Doran from Ocean Breeze Resort said the resort was "near full occupancy for the holidays with weekends at 100 per cent". Queenslanders, many repeat guests, are happy to come to "their happy place", he said. "Everyone is so grateful and happy to be on holidays, the sentiment has been really positive." Alan Golley from Seahaven Noosa said they were receiving a lot of last minute bookings on the day or day before. "I think Queenslanders are holding out to see what the weather is doing and making their decision at the last minute to travel," he said.
"This first week of school holidays we are holding 75 per cent occupancy which is definitely a lot better than where we expected considering our main winter travellers from New South Wales and Victoria aren't with us. The second week is holding approximately 68 per cent occupancy but we are expecting to see further last minute pick up with amazing winter weather predicted for the next week. We are also finding that weekends are more popular than mid-week and guests are coming from all across the drive market, Gold Coast, Brisbane and Toowoomba."
In Noosaville Geoff Hussin said his Ivory Palms Resort had gone from empty to full in a week and would be busy with Queensland visitors for the three weeks of the school holidays. "We are flat out and it is great to see," he said.
Jacinta Delahunty from Sunseeker Holiday Apartments in Sunshine Beach said they were "pretty much full with lots of return guests".
Dan Gleeson said The Beach Retreat Houses at Peregian Beach were also full for the school holidays with about 70 per cent return guests and 30 per cent new guests. "Great to see Queenslanders supporting Queenslanders," he said.
In the hinterland Nadia Bellerby from Rosecliffe Cottages in Pinbarren said they were full for the holidays with a waiting list through to October. "Everyone is so happy, guests are really enjoying the country fresh air and the natural environment," she said. "The kids are loving the animals and it is great to see everyone being mindful of social distancing and doing the right thing."