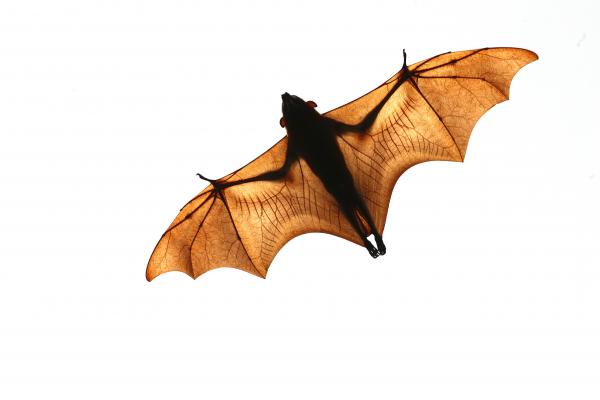 By Margaret Maccoll
Noosa Heads neighbours being driven batty by bats came close to blows last week when tempers flared between residents attempting to disperse a bat colony and others wanting to protect them.
A colony of grey-headed flying foxes that are listed vulnerable to extinction under the Threatened Species Conservation Act have made their camp in Pinaroo Park.
A Toulambi Street resident who has lived beside the park for the past 45 years said neighbours didn't want to harm the bat colony but they were making conditions for residents "unbearable".
"We have to keep all our windows and doors closed. Our back deck is covered in bat s**t every day. I have to scrub it. We have incense burning all the time," he said.
He said bats began camping in Pinaroo Park about 10 years ago. They arrive in May and leave in November, leaving behind a small colony that does not disturb residents. "In May they came back with a vengence. About a month ago another colony turned up," he said.
"We are at our wits end. At night it's a spectacle. The sky is black. You can almost taste it – the stench."
"A few people get out there with pots and pans. We feel if the bats are disturbed enough they will move."
Last Thursday when residents were banging their pots and pans another resident approached them angered by their attempts to disturb the bats and a scuffle ensued.
An Allambie Terrace resident said she didn't know what council could do to move the bats "but surely they could do something for all the residents".
"The smell late afternoons when they take off and empty their bladders and early mornings when they come back and do the same is unbearable inside the houses," she said.
Human wars on bats are not new in Noosa or across the country.
As humans have taken over and destroyed their habitat bats have been forced to move into urban areas where they have been shot at, netted, electrocuted on powerlines and chased. When foremost bat expert Dr Les Hall visited Noosa in 2017 he described flying foxes as smelly, noisy and offensive, but said it was hard not to admire their resilience, adaptability, intelligence and the role only they play in pollinating our native trees.
"Flying foxes are quite often in the news. They're quite good at making a nuisance of themselves," said Dr Hall who spent a lifetime studying bats before he passed away in 2019.
There are 26 species of bats living on the Sunshine Coast and 86 across Australia.
There are three species of flying foxes on the Sunshine Coast, and each has a different breeding season.
Their continual movement across large distances in search of food and their different breeding seasons, makes managing them in urban environments very difficult, he said.
Flying foxes only stay in an area where there is food and have their babies where it is safe and there is food.
Noosa Flying Fox Rescue spokeswoman Jan Davie said the grey-headed flying foxes in Pinaroo Park, like all flying foxes in the area, would be starving and the females would have been pregnant since May and due to give birth in November.
She urged the residents to be more patient with the flying foxes, saying the stress from continual disturbance could cause the pregnant flying foxes to abort their babies and their actions were illegal.
"A lot of the native trees like the paperbarks were burnt in the fires. They are very hungry," Ms Davie said.
Since August the group have been supplementary feeding bats across the shire as well as picking up dead ones that have died of starvation. "The food source for them is zilch," she said. "They are our pollinators. If we lose them we lose our trees. If we lose them we lose our koalas."
Ms Davie said she felt for the residents but called for their patience and understanding. She said flying foxes had 30 different calls and were very chatty and their odour came from their scent but she wanted to assure the residents they would not contract diseases from their droppings.
There have been several studies on attempts to move bat colonies that have failed.
One Griffith University study by Billy Roberts et.al. examined the consequences of attempts by government between 1999 and 2007 to relocate a flying fox camp in Maclean in northern NSW by subjecting the camp to continuous loud noise. The study found flying foxes returned to the original camp 23 times between those years, established a number of temporary camps and a new permanent camp near the town of Iluka.
After almost a decade of dispersal attempts costing about $400,000 flying foxes had established camps over a wider area affecting an increased number of residents.
Noosa Council's Environmental Services manager Craig Doolan said flying foxes were a highly mobile and wild animal and the noise, smell and mess can be quite disturbing for residents.
"State legislation prohibits the deliberate dispersal of flying-foxes from roosting sites and resident concerns over the action of using loud noises have been passed on the Department of Environment and Science for investigation," he said.
"The regular disturbance to the flying-foxes is making the noise and smell worse, amplifying the impacts on local residents," he said.
"If numbers don't naturally decrease soon, we will look at what support we can provide residents.
"We have previously provided car and clothesline covers and cleaning products to assist coping with the impacts in areas such as Wallace Park and Kin Kin," he said.
Mr Doolan said Pinaroo Park was not a new colony, but there has been a natural variability in numbers.
"Advice from experts and the experience of other councils has shown any attempts to disperse flying-foxes usually fail, and can lead to further problems," he said.
Dr Hall suggested instead of trying to chase or deter them more time should be spent predicting the flowering of plants they ate and providing reserves for them.
Flying foxes are the only species that pollinate at night when some native plants flower and across distances which maintain the vigour of trees and prevents inbreeding that could cause stunting or disease.