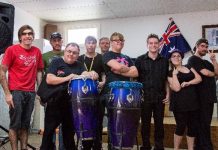 By TESSA MAPSTONE BIG smiles and even bigger dance moves were busted across the floor at the Endeavour Foundation's Battle of the Bands last Wednesday...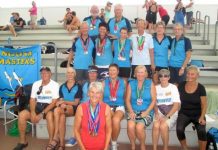 By TONY FROST NOOSA Masters Swim Club fielded 18 swimmers at the State and National Masters Swimming Championships held at Rockhampton over five days, from...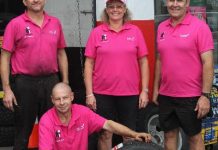 ON Friday 2 May Tyrepower Noosa turned pink to support the fourth annual Kumho Tyres Pink Fitters Day, benefitting the McGrath Foundation. Pink Fitters Day...
By ALASDAIR SCOTT FOR two weeks in a row, Noosa Lions scored five goals to claim emphatic victories. However, last week's 5-1 win at Caloundra was...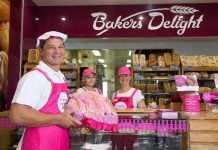 PINK finger buns are on the menu for Baker's Delight's free breast cancer awareness morning tea, tomorrow from 11am at Noosa Junction. Baker's Delight Noosa...
By NATHAN MCLEAN NOOSA Pirates' Saturday night loss 24-6 to Gympie highlighted to all players the value of leadership. Lewis Foot (lock) and James Harrison...
By PETA HOLMES ANOTHER close game for the Noosa Eagles under-7 Blacks soccer side, which was defeated 4-2 by the Buderim Panthers. Sammy Poulton...
By BRIAN STOCKWELL A CONFIDENT Coolum registered first points in their Premier Men's match against the Noosa Lions team on Saturday. A tense opening stanza saw...
PERFECT weather created ideal conditions for the annual Noosa Heads Surf Life Saving Club Golf Day held at Noosa Springs Golf Course, last Friday. Locals...
By CLARE ASKEW DUE to the fact that the Eumundi Dragons under-12s scheduled match with Sunshine Coast Grammar School under-12s last Saturday had to be...
By CLARE ASKEW THEY have arrived with a hiss and a roar - the Eumundi Dragons under-10s have found their mojo and a defined rugby...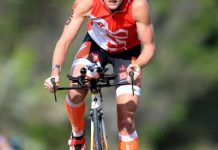 NOOSA'S world champion ironman Melissa Hauschildt has won Australia's most enduring event on debut at the distance. Hauschildt, who moved to Noosa earlier this year,...