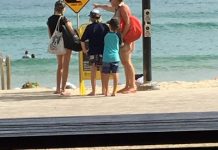 Congratulations to this adult for teaching the children how to read warning signs before before going onto the beach itself.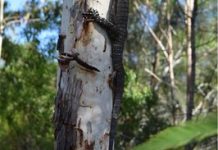 May Lloyd found this beautiful goanna that ran up a tree as she was walking by last week. It was about a metre and...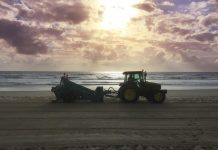 Last week during an early morning walk along Peregian Beach Maggie captured the sand being raked over. It was lovely for walkers to tread...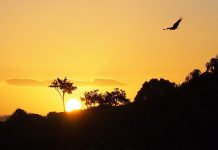 Farewell 2018. Leanne Airey captured an image showing the last glimpse of the sun for 2018 as it descended over the Pomona countryside on...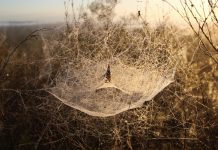 The beautiful tent spider, captured by Cameron Gillespie. If you would like to submit a photo for Lenscape please email newsdesk@noostoday.com.au.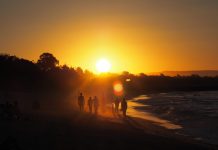 Thanks to Phil Brown from Noosaville for this Winter Warmer! "I took this sunset photo looking up the beach to The Groyne, Hasting Street,...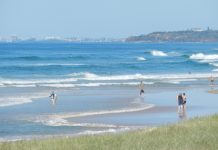 What Winter? Thanks for the reminder that beach life is year-round in our beautiful region, Shane Gaynon (taken at Peregian Beach). If you would...
These signets are the latest arrivals in the Noosa Springs. Chris Harrold sent this warm and fuzzy moment in for Lenscape this week. If...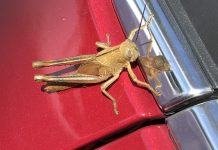 This little guy found himself a friend. Leonie Gaffel snapped this in the car park of the Noosa Marina last week. Please send your...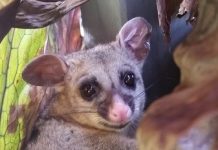 Margaret Claydon snapped this picture of a cute little possum visitor who loves catching a nap in her stag-horn. Please send us your local...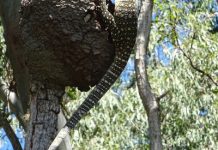 Jennifer Bosch took a hike in the Noosa National Park with family from Holland and found this hungry guy feasting on ants. "We...