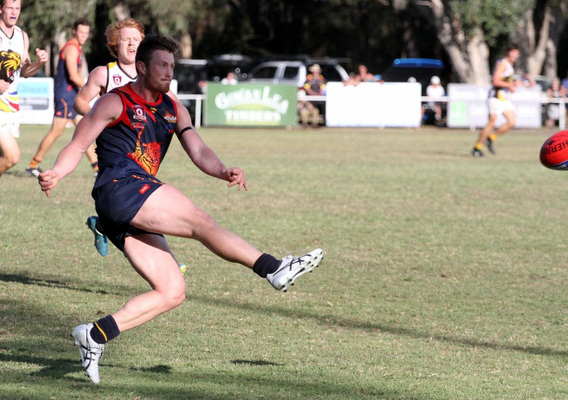 By Julien Pitts
The Rococo's Bar and Bistro Noosa Tigers have outlasted a very dogged and gallant Caloundra in front of a big crowd at Noosa Village Autos Oval last Saturday night. In a game where the Tigers always looked to be in control the lead never ventured further than 15 points as the well drilled Panthers outfit continued to apply senior footy pressure.
After over 120 mm of rain earlier in the week a quagmire was expected however the Noosa Village Autos Oval held up extremely well. Whilst it was still heavy going the skill level of both sides was terrific.
'They are hard to beat Caloundra at any time' said assistant coach Craig Horwood. 'They just continually put the pressure on and seem really enthusiastic out there which is great. Our boys were good, got the job done and needed a good test like that one coming into the next month.'
Plenty of good players for the victors with dual club champion Nick Hill a standout and along with Cubby Isles and Mav Pettigrove relished the heavier going to dominate through the middle and also up forward. Jayden Holt's skills were sublime once again as he continues a very good year whilst footy manager Mitch Woods was again among the Tigers best. Buntain controlled his area down back to be a prominent player on the ground with team leader Harry Maher picking up heaps of quality touches in a really good performance. Up forward the presence of Ryan Jeffery was more than noticeable which is a handy sign heading towards finals. Also the debut of 16 year old Charlie Bowes could not go unnoticed and he certainly did not look out of place. Great stuff Charlie!
Of course even a bigger stage this Saturday at Noosa Village Autos Oval as we take on the second placed arch enemies Maroochydore on Sponsors Day – one that should not be missed.
A big thank you to Geelong champion Barry Stoneham who entertained us all at the President's Dinner which did not disappoint.