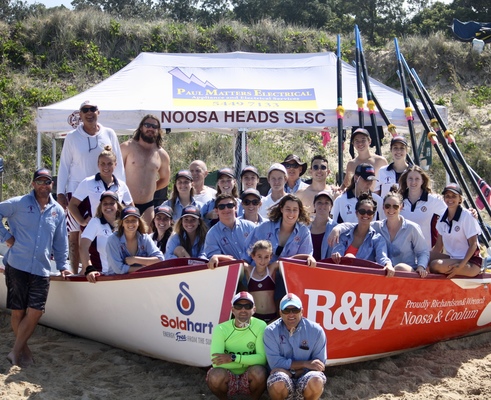 By Ron Lane
The boat section of the Noosa Heads Surf Club is definitely on the move with new sponsors coming on board and more crews being formed. Following close on the commitment of Richardson & Wrench (Noosa and Coolum Real Estate) came DEVCORT-and under owner/director Murray Thornton, a new boat was donated. Formerly from NSW now residing at Sunshine Beach, Murray is a former rower and having enjoyed his years pulling an oar decided on arrival in Noosa to continue his involvement in the sport he loves. Boat Captain Anthony Fox said, "We would like to welcome Murray and above all thank him for this great sponsorship. Also s big welcome to Stu Cooper our new sweep."
Over the Australian Day Weekend the Noosa crews were busy at two different locations. First was Maroochydore where they contested the masters divisions of the Murphy Builders Classic. In this Noosa was represented by the Condors and the Emus and this resulted in the Condors coming home with a silver medal.
The other location was Manly Beach in Sydney and here four crews, the Spangled Drongoes, Scrub Turkeys and Chums (all female) and the Peacocks flew the flag for Noosa. Results saw the Chums win the ladies grade final; the u/19 girls the Turkeys finish 4th in the final and the Drongoes were eliminated in their semifinal; the Peacocks finished 5th in their final.
"We learned a lot in Manly; we have some new rowers but overall we were happy with the results," said head sweep David Tomba." Next carnival will be the big one the Australian Surf Rowers League Australian Open considered by many to be the ultimate. This will take place on the 14-17th February at Elouera Beach."
At the 5th round of the Nutri Grain held at Surfers Noosas Lana Rogers finished in 7th place. This will place her in 4th for the big final to be held on the 23rd at Wanda.
Last weekend Noosas Main Beach was yet again the center of attraction for hundreds of swimmers when the Noosa Summer Swim Annual Events were held. Surf conditions were good except a short spell of rain late Sunday morning.
Under the direction of former Olympic legend Michael Klim the program of events ran smoothly and as with former years life savers from Noosa Heads and Sunshine Beach (on Sunday) provided water safety- with swimmers being covered by IRB teams and rescue boards.
On Saturday the events consisted of various distances such as 300m, 1, 2 and 3 km swims and Sunday the major events of 5 km were held. Saturdays 300 m swims were for the junior kids and according to officials there were some 100 involved and over the two days there were a total of 18 events. "The number of events has grown and the response had been great," said Klim. "This year away from the swims we have included a few novelties with sunrise yoga and outdoor cinema events. This helps to create a carnival atmosphere and we were happy with the results."
Sunday the major events the 5km swims were won by Nick Sloman (mens) and Kareena Lee (womens) both members of the Noosa Surf club.