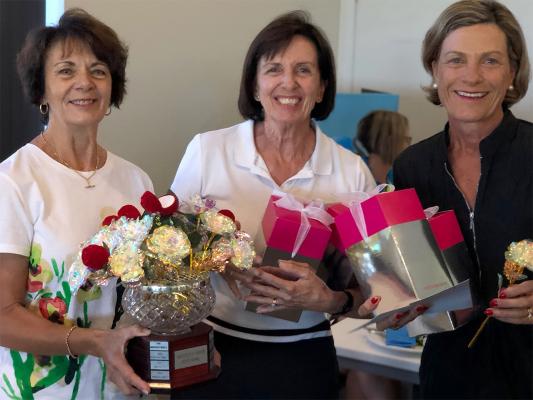 By Peter Owen
When Keith Harkins was just a lad growing up on the NSW side of the Murray River, he earned $1.50 a nine for raking the sand greens at Tocumwal golf course.
A few years later he was at the wheel of a borrowed Ditch Witch, digging trenches for irrigation at a course that is now renowned as one of the finest regional tracks in the country.
When he started playing golf at a course he helped to build, Keith would go head to head with his best mate Mark Kelly, who he beat to take the 1975 Tocumwal C grade championship. A year later Mark reversed the result, narrowly beating Keith for the club's B grade championship.
Fast forward nearly 50 years and the two lifelong friends are still slugging it out on the fairways – only this time at Cooroy.
And they're no longer just friends. Along the way Mark met and married Keith's sister Kate, and they're now brothers-in-law. But they're still playing great golf.
A fortnight ago five-handicapper Mark scored 39 points to take Division 1 of Cooroy's Saturday competition. A few days later, in the veterans' Wednesday Monthly Medal, Keith went around in 75 – his best ever score.
Though his net 66 was an outstanding result it wasn't good enough to take the A grade trophy. He was beaten on a countback by fellow veteran Bob Noble.
"I didn't care, though," said Keith, who turned 65 just two days before the event. "It was just great to play well."
He put his extraordinary round down to simply swinging slower.
"I've been swinging too hard and rocking forward onto my toes" he said. "I decided to swing at about 80 percent and the difference was truly amazing."
Keith spent most of his working life as an engineer in the food industry, including 22 years in Brisbane. Like many parents, he pretty much gave golf away while his family was growing up, though he became a member of Redland Bay and, later, Brisbane Golf Club.
When he retired and moved to the Sunshine Coast five years ago, he joined Cooroy, where he says he's made some great friends, and been able to renew his rivalry with his brother-in-law, with whom he plays most Saturdays.
"I've got to admit, though, that being off eight makes it pretty difficult for me to beat him," Keith said.
Ladies day at Noosa Springs
Ralph Lauren – one of the most famous names in golf fashion – has thrown its weight behind Noosa Springs Ladies Golf Series, which kicks off for the year on Tuesday, April 20.
The fashion giant will offer prizes at this ladies-only event where golf and glamour get together three times a year.
Ladies take on Noosa Springs' wonderful course in the morning, and follow up with a gourmet lunch, complete with glass of sparkling wine, in the clubhouse.
As well as the Ralph Lauren prizes, there is also a chance to win a session at one of Australia's best day spas. Those who play in two or more of the three legs will be in the running for the major prize – a Half Day Spa Escape, which includes a Thermal Suite Experience and a choice of massage, facial or sugar scrub, plus four rounds of golf in an electric cart.
The cost for golf and lunch is $39 for Noosa Springs' members, $94 for social and reciprocal members, and $104 for visitors.
For more information phone the Golf Shop on 5440 3325 or email golf@noosasprings.com.au.
Marc shows he's still got the goods
Marc Bright, the colourful Cooroy player best known these days for his work with disabled golfers, showed he can still mix it with the best when he competed successfully at the weekend's Sunshine Coast Amateur Golf Championship at Headland.
Without much of a preparation, Marc shot rounds of 79 and 75 as rain fell persistently on a course already saturated from recent rain.
His score of 154 placed him 20th overall in the elite field of amateur golfers.
It was good enough for the five-handicapper to take the Division 1 nett prize (74, 70: 144). Marc also won the senior title by one stroke from Maroochy River's consistent Keith Horne (77, 78: 155).
Mark, a former professional who is a passionate advocate of All Abilities golf at Cooroy, was part of the capacity field that braved the conditions in what is undoubtedly the Sunshine Coast's biggest event for amateur golfers.
Noosa golfer Pete Walker (162) was the Division 2 (handicap five to 10) gross winner,
George Giblett (74, 74) was the best-performed Noosa representative, his total of four-over-par 148 placing him fifth overall, one stroke better than clubmate Cooper Clarke (74, 75), whose challenge died with a double bogey six on the 17th hole on Sunday.
The event was won by rising Pelican Waters star Joel Stahlhut, who had rounds of 73 and 70 to win by two shots from Atherton's Will Florimo (71, 74) and last year's winner Adam Hawkins (76, 70) of Headland.
Joel, 21, who plays off a handicap of plus three, comes from Goondiwindi, where he won the club championship three times while still a junior.
Noosa Springs team takes Rose Bowl
A TEAM of women from Noosa Springs upstaged the locals to take last week's Rose Bowl, one of Maroochy River's marquee events.
The Noosa Springs invaders – Rosemary Randall (36 points), Tracey Carter (36), Dianne Hudson (33) and Chrissy Hordern (37) – all contributed significantly to a team score of 142 points and win the four-ball aggregate stableford event by seven strokes.
The event, played on a soggy course after steady rain, drew 152 women from 20 clubs throughout southeast Queensland, and from as far away as Murgon and Nanango.
In the single stableford competition, which was run in conjunction with the Rose Bowl, the visitors again dominated.
Alison McCracken, a 16-handicapper from Wantima, won the A grade division with 41 points, while Caloundra's Heather Busch (39 points) was the B grade winner.
Coco shows form in schools championship
Noosa youngster Coco Moore continued her rise to prominence when she finished second in her age group in the Queensland schools state championship on the Gold Coast last week.
Coco, a member of Noosa Springs along with her elder sister Sunday, shot 42 in the nine-hole competition for girls aged 10 to 12. Two other Sunshine Coast girls – Lilly Surasen of Maroochy River (43) and Peregian's Ellianna MacRae (45) – were fourth and fifth.
Sister Sunday (86, 90) was part of the Sunshine Coast girls' team which finished third in the 13-19 age category.
Club competitions
NOOSA
Monday, 29 March
Women's 4-person Ambrose: Cheryl Grieve, Shirley Rogers, Jo Terrans & Marilyn Cliff 64.75, Gwendoline Whitehead, Noreen Scanlon, Tracey Skeppstrom & Tracey Frawley 66.5.
Tuesday, 30 March
Men's stableford: A grade: Grant Baker 39, Peter Fryer 38, Colin Kinnaird 37c/b, Andrew Amos 37c/b; B grade – John Purdue 43, Terry Fitzgerald 39, Peter Shortal 37c/b, Dave Butler 37; C grade – Jim Booth 40, Chris Rowlinson 39c/b, Graham Dacombe 39, Bruce Howden 38.
Wednesday, 31 March
Vets stableford: A grade – Michael Morgan 38c/b, Alec Graham 38, Trevor Payne 37; B grade – Bob Foster 37c/b, Ted Clark 37, Tony Jackson 35; C grade – Michael Tsolakkis 34, Jeff Scougall 31c/b, Roger Waters 31.
NOOSA SPRINGS
Monday, 29 March
Men's stableford: Darryl Dent 39c/b, Greg Taylor 39, Doug Oates 38; women's stableford: Dana Angus 44, Sandra Probert 36, Toni Liddy 34c/b.
Wednesday, 31 March
Men's stableford: Robert Aitken 38c/b, Peter Foulsham 38, Uli Schmetzer 36; women's stableford: Sandi Hoskins 38, Sarah Bessant 32, Dana Angus 31c/b.
Saturday, 3 April
Men's stableford: Paul Weatherstone 40, Paul Grant 37, Ross Cooke 36c/b; women's stableford: Gabriella Latham-Callcott 37, Glenda Smith 35c/b, Carol Moloney 35.
COOROY
Tuesday, 30 March
Women's (9-hole) stroke: Eve Hunt 36, Kay Gilmour 41c/b.
Wednesday, 31 March
Vets Monthly Medal, stroke: A grade – Bob Noble 66c/b, Keith Harkins 66, Peter Brown 71; B grade – Tom Williams 69, Andre Smit 71, Jack Timm 72c/b; C grade – Don Esposito 71c/b, Don Clelland 71, Glen Johnstone 72. Best gross: Keith Harkins 75.
Saturday, 3 April
Women's Monthly Medal, stroke: Tina Thomas 71, Sarah Brogden 74, Janelle Thorburn 79.