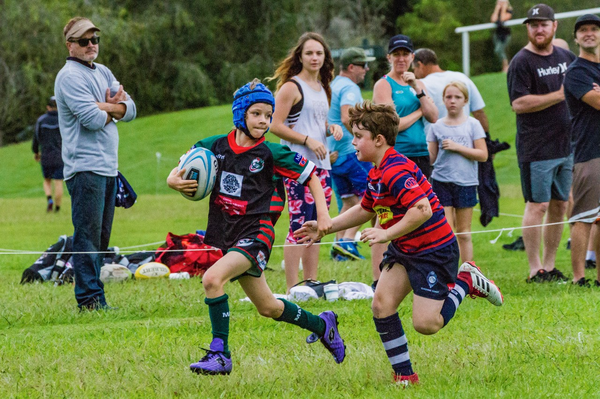 It was a great effort by all Dragons who ensured the club had another very successful home game's day, according to Eumundi Dragons club president Doug Toms.
"Once again you have demonstrated what being a Dragon is all about – enjoying the game for what it is and always striving to be that little bit better every time you take to the field, he said. "The Dragon's name continues to be respected by all other clubs on the coast whether after a win or a loss."
U10s Match Report by U10's Manager Pamela Campbell-Jones
This weekend saw the Dragons take on a speedy Brothers team at home. The boys were looking set after training well on Friday, and they took to the field rearing to go.
It was a much-improved Dragons team this weekend, there were some impressive defense and an increased level of intensity. The Brothers team bought their A-Game and ran away with a convincing win, but the Dragons should feel proud of their efforts. Jai Clifford was awarded Man of the Match and Craig Yaxley was awarded for strong leadership.
With another week of solid training, we are bound to see this team getting stronger and more cohesive.
Go Dragons!
U8s By U8's Team Manager Andrew Hillhouse
The lessons learned in training are starting to be expressed in the teams game and today the Eumundi Dragons U8s started putting it together. Their mauling and rucking were strong with close running up the middle by Josh V, Josh K, Jasper and Brooklyn which yielded a number of tries and meters. The vigorously contested for the ball resulting in a number of turnovers.
There were some great passes and some offloads in the tackle from Jasper and Billy to support running onto the ball resulted in tries. The whole team made countless tackles with some memorable try savers from Jasper, George, Ted and Brooklyn.
Tries from great teamwork to Luke, Ted, Jet, Josh K, Josh V, Brooklyn, George.
Player of the match this week goes to Josh K for scoring his first try from a single-minded, determined charge through the forwards and for great teamwork.
U7's Match Report by U7s' Manager Jeremy Mansell
The U7's had another great game on Saturday against a very willing Brother's Team. Both teams showed some very good passing and support play giving them plenty of go forward. The Eumundi U7's are improving every week with great coaching leading to awesome defense and support play. Maya had a Player of the Week performance with her breaks down the sideline and efforts making touches. The rest of the team supported her really well with Jax, Zach Henry and Johnny making a lot of touches and slowing the Brothers momentum. Nixon and Tristan found direct routes to the try line with great support from CJ. Well done U7's
U6's By U6's Team Manager Rachael Griggs
Another stellar performance from the mighty U6s on club day. All members were enthusiastic and starting to show a real understanding of passing and running towards the try line. Each week they provide the crowd with a nail-biting performance. Player of the match went to Owen for great running.