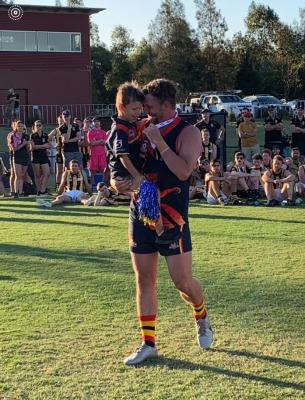 By Russell Bennett
Ben Collins still isn't entirely sure if Noosa's 55-point triumph over Mayne to claim the 2020 QFA Division 1 HART Sport Cup was his final game of senior footy.
But that's one hell of a swansong to go out on, if it proves to be the case.
The 38-year-old former player-coach of Kooweerup, and premiership winner at clubs including Beaconsfield and Cora Lynn – all in Melbourne's south-east – opted for a Noosa sea-change with his young family earlier this year, and they're not looking back.
The Tigers' premiership win marked Collins' sixth senior flag out of nine grand finals – an incredible record over a 20-year senior career so far.
And when he stepped up to receive this particular premiership medal, he had a beaming grin from ear-to-ear – knowing his wife Aleisha and young kids Archie and Brighton were there to experience it with him.
His last flag came as player-coach of another south-east Melbourne side, Belgrave, in 2012 – before he and Aleisha were married, and before the kids came along.
He always had a dream to take his son up to the premiership dais with him, but wasn't sure he'd ever get that chance – until his win with those roaring Tigers, when Archie was right by his side.
But the boys from Kooweerup were never far from Collins' mind as the final siren sounded.
"I thought of all these through-and-through Koowee people that we worked so hard for back there," he said.
"It'll probably remain the biggest regret of my footy career that we couldn't win one there.
"That's not to take anything away from these Noosa boys whatsoever – I've had an absolute ball with those blokes – but I had the Koowee guys in my head the whole day.
"I guess I wanted to make up for 2018 in some way."
The Collins-coached Kooweerup lost to Phillip Island by 99 points in astonishing scenes back in the 2018 West Gippsland decider.
It was the year after he stopping playing senior footy – seemingly for good – while battling testicular cancer in mid-2017.
He spoke at the time, acknowledging the need to speak out and raise awareness of the second most common form of cancer in young men aged between 18 and 39.
Ben was told he had an early-stage seminoma and had surgery to remove the cancer-affected testicle.
He was inspired to step up and get checked out by his GP after AFL key forward Jesse Hogan came forward with his own battle.
"I actually texted him and said that, without wanting to dramatise it, I only got checked because he came out publically and said he had it and that could potentially have saved my life," Collins said at the time.
"The reason I'm happy to get this out there is because if we can influence someone else to get themselves checked, and if that person has it and it's caught early, then this is all worthwhile.
"The doc reckons I'd had it for six months before I was diagnosed. I had no pain – it was tender, but it didn't hurt."
Collins has had the all-clear for quite some time now and said he no longer really thought about the health battles he experienced, but he was quick to add they did spring straight to mind after the Tigers' premiership win when he reflected on the journey to that point.
"That time in my life was three-and-a-half years ago now, and that time has just gone so quickly," he said.
"We got interviewed by the footy club after the grand final and that was one thing that came to mind – that, and the Koowee boys and what a flag would have meant to them."
Kooweerup's most recent senior premiership was almost 40 years ago, back in 1981.
In some way, he'll always think of the Demons when he looks at his Tigers premiership medal, but make no mistake, he'll always cherish the memories he's made at Noosa.
"I'm definitely lucky to have walked in and become a part of a really good side straight away," he said.
"It was pretty awesome – we only drew once and the rest we won."
That one draw came against Mayne back in Round 9, and Collins said it proved to be the kick in the pants the Tigers needed.
"We got away with a draw, but the funny thing was that after the game we sat in the rooms and I had a good chat with Hutchy (fellow Victorian ex-pat, the experienced Shane Hutchinson) and Bov (coach Adam Bovalino) and said this could have won us the flag," Collins said.
"It was probably the best thing that could have happened to us as a side, in all honesty.
"It was sort like it kicked us into gear – it was definitely the catalyst to us winning the flag, I reckon."
Collins praised the Noosa group and the impact the likes of Bovalino and Hutchinson had through their leadership.
But, by the same token, the talented youth of the group was left the biggest impact on him.
"There are a couple of young blokes that Hutchy and I became really close with -Wil O'Dwyer being one," Collins said.
"He'd be one of my best mates at the footy club and he's 18 years of age, and he can really play.
"There are just some of these 18 to 22-year-olds that we've become really close with. I feel like we've really helped them in that leadership role, and have really helped Bova in that sense too because there was probably me, Hutchy, (former Sydney Swan) Brett Meredith, and a local bloke named Nathan Winter. Other than that, just about everyone else was under that 25 bracket. I really enjoyed that role."
Ultimately, Collins was just proud he could contribute.
"I made the decision at the end of 2017 to stop playing and I felt like I was still good enough to give to that (Kooweerup) group something on-field, but I felt like I was better served to them as a non-playing coach," he said.
"This year, from a selfish point of view, I felt vindicated in my thought that I could still play. By no means was I one of the best players in the team or anything like that, but I know that I gave a lot to this group this year, and I knew I could still go out and play a role on-field."
And now, he'll be forever remembered as a Noosa premiership player – with a group of blokes who've rapidly become some of his best mates.