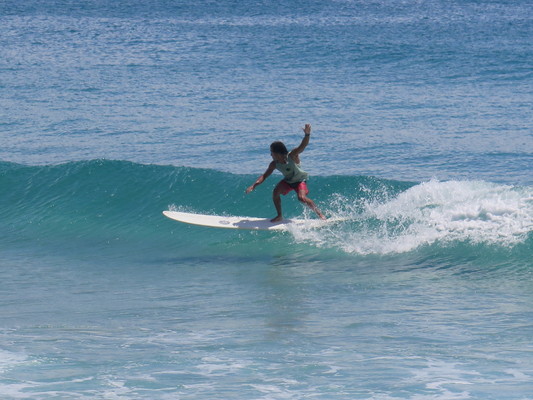 By Abbey Cannan
The Noosa Longboard Open Championships kicked off on Thursday 7 March at the Noosa Festival of Surfing with crowds gathering to check out what the World Surf League pros have to offer.
There are over 60 surfers in both the men's and women's events competing for the title, as anyone can enter the WSL Noosa Longboard Open, requiring just a registration and entry fee.
WSL longboarding superstars competing in the event include Hawaiians Kaniela Stewart and Kelia Moniz. Kaniela Stewart won the Under 18 Men's Final at the Noosa Festival of Surfing in 2018 and Kelia Moniz is a two-time world champion.
WSL commentators said 16-year-old Caloundra local Riley Thompson had skipped school yesterday to compete in the competition against the world's finest.
"It's good to have locals in the water," they said.
"It's been a great start to our World Surf League Longboard tour here in Noosa. We've got some small waves right now but the guys are still putting on a great show."
In 2011, Noosa local Josh Constable claimed the men's title in the ASP 1-star Golden Breed Open, with fellow Australian Chelsea Williams donning the ladies' crown. Both subsequently won world titles, and this year they are both competing to reclaim their Noosa victories in stage one of the four-stage WSL World Championship race.
The rewards for the competition are exceptional, with a $30,000 prize purse up for grabs across each division, each winner receiving an appetising $5,000, and the remaining purse spread incrementally throughout the top 17 surfers.