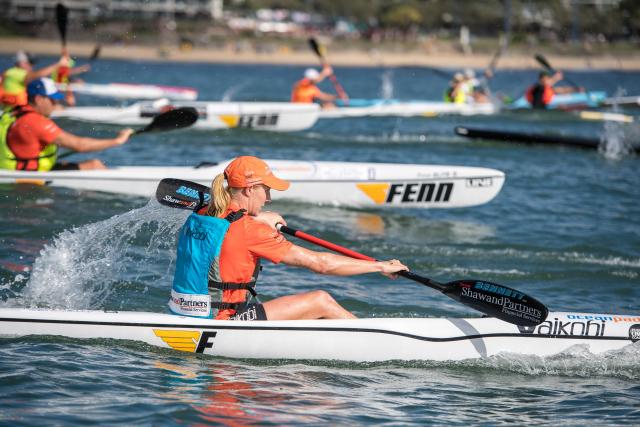 Competitors from across Australia, France, New Zealand and New Caledonia hit Noosa last weekend for the inaugural Shaw and Partners Hells Gates 38 Ocean Ski Challenge on Saturday.
Not for the light hearted, the 38km course from Mooloolaba to Noosa was a true test of endurance for all paddlers including some of the world's best Ocean Ski racers with the offshore winds along the coast being replaced by a strong headwind after the competitors past Hells Gates with 4km to the finish.
First place in the Women's race went to 2019 World Champion Danielle McKenzie whilst the Men's race was won by Cory Hill, also a former World and Molokai to Oahu Champion.
After finishing Corey said, "Smiles from start to finish, a very tough day on the water. Happy to win the inaugural Hells Gates 38 race."
Danielle reflected on the race saying ,"After 10km I started to find my rhythm, Coolum and Perigian came up pretty quickly, but Sunshine Beach seemed to take for ever. This was the longest race I've ever done."
Both winners said they would be back next year.
As race five of the 2022 Australian Ocean Racing Series and with the amazing support of Shaw and Partners the Hells Gates 38 had a prize purse of $20,000 across all of the race categories.
Race director Chris Price acknowledged the fantastic support from the local community including Visit Noosa, Ironman Oceania, Heads of Noosa and the RACV Noosa Resort.
Pricey also said that the conditions on race day provided a perfect showcase for the Noosa beaches, National Park and the stunning aquatic environment, generating Images that will make their way around the world as the event continues to grow.
Overall placings;
Men
1. Cory Hill: 2hrs 56min
2. Valentin Henot: 3hrs 1min
3. Oscar Jones: 3hrs 4min
Women
1. Danielle McKenzie: 3hrs 14min
2. Rebecca Creedy: 3hrs 28min
3. Phoebe Woodhouse: 3hrs 32min