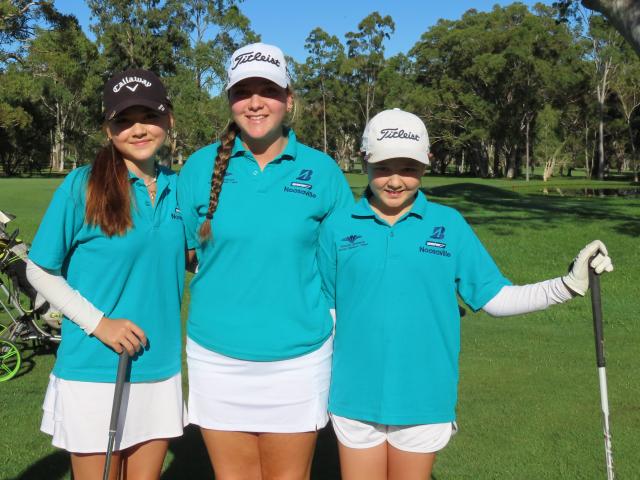 By Peter Owen
Noosa Springs is on the brink of defending the junior pennant championship it won last year after another solid win over a powerful Maroochy River 2 team at Cooroy on Sunday.
With just one more round to be played in Division 1, the Noosa Springs juniors are on top of the standings, having gone through the first five rounds undefeated – scoring two wins and three draws.
Much of that success is due to the play of Sunday Moore, the Noosa Springs' number 1 player, who has gone through the season undefeated.
She beat Maroochy River's Ionna Muir 2up on Sunday to lead her team to a 3-1 win. Younger sister Coco Moore beat Lily Surassen 5&4, while Alex Bray beat Blair Green 1up. Only Jasmine Lena, a member of last year's champion squad, lost, going down 6&5 to Marley Habermann.
In the other Division 1 contest, Noosa drew 2-2 with Maroochy River 1, despite having to forfeit a match when in-form Maddison Kelly and Bronson White were unable to play.
But Noosa's Shane Dunning beat Alex Procopis 1up, with Nate Jackson and Eli Cookman earning draws with their opponents, to allow Noosa to escape with a point, keeping them in the running.
Because only four teams are competing in Division 1, just the top two after the Noosa round on August 7, go through to the final.
Noosa Springs take on Noosa and a draw will be enough to guarantee their place in the final, while the two Maroochy River teams clash in a contest that could have great bearing on the final makeup.
In the final round of competition in Division 2, Noosa drew 2-2 with Maroochy River 4, setting up a repeat clash between the two teams in a semi-final at Noosa on August 7.
Noosa finished second on seven points, with Maroochy River 4 third on six points. Cooper Liddell (3&1) and Amy Coates (1up) were the Noosa winners.
Mt Coolum retained its position at the head of standings after a 3-1 win over Noosa Springs, while Maroochy River 3 stole a spot in the semi-final, beating Headland 3-1 after winning two of the matches on forfeit. Full details at sunshinecoastgolf.org
No grey in Gary's world
Ask Cooroy's Gary Menyweather about the exceptional 41 points he scored in a vets' stableford competition last week and he'll immediately tell you how unfair the handicapping system is to older golfers like him.
Then ask him about his long career as a housing construction manager and he'll tell you there's too much emphasis on Australians owning their own home, and that home ownership should not be such a driver of the economy.
And don't even ask him about the pandemic.
Gary's a bit of an enigma, a man who marches to the beat of his own drum, and who sees things not in greys, but in stark black and white.
A resident of Yandina, Gary has been a member at Cooroy for the past two or three years after being a long-time member of Nambour Golf Club.
He would have joined Cooroy earlier but the golf club insisted on a joining fee, and Gary wasn't having any of that.
"Money was a bit tight in those days," he explained.
Now a well-worn 68 – Gary's words – he's now retired and says he loves playing at Cooroy, and enjoys walking the course.
"That was one of the reasons I left Nambour," he said.
"The hills got a bit too much for me."
He enjoys golf – but more so for the company of his playing partners, the fresh air and the exercise, rather than the competition.
"I think that's why I scored so well on Wednesday," he said.
"I just had the right attitude and, you know, I got the luck – a hit from under a tree that bounced onto the green, and three or four other lucky breaks.
"You finish a round like that, score 41 points, then you ask yourself what you did different today from every other time you played. And you know what – I can't answer that question."
Gary grew up in Brisbane's inner western suburbs and started playing golf during his senior year at high school.
"My dad played a bit – never to much of a standard – and I followed him, playing socially but never joining a club," Gary said.
"I actually played quite a bit of bowls, even pennants, in my late 20s."
It wasn't until he relocated to the Sunshine Coast and joined Nambour that he took golf seriously, getting his handicap down to single figures.
He served on the match committee at Nambour and the redevelopment committee, but quit when he thought it was becoming too political – 'all talk and no real action.'
He's been a member of Cooroy's match committee, too, and is regular volunteer at the club's Tuesday working bees.
Great week for Noosa's Maddie
Despite a moderate first-round 81, Noosa's Maddison Kelly rallied to become the best-performed of a large Sunshine contingent at last week's Queensland Junior Amateur Championship at Bargara, near Bundaberg.
Maddie followed that disappointing opening round with scores of 75, 75 and 75 over the next three rounds to shoot a 72-hole total of 14-over-par 306 and finish 10th in an elite field of Australian junior golfers.
Two girls from the Gold Coast – Surfers Paradise's Harahi Nakatani (72, 69, 69, 72) and Southport's Yuuki Takada (75, 70, 75, 70) – finished first and second.
In the boys' division, former Noosa junior Taj Egea overcame a disappointing first 36 holes to charge home with rounds of 66 and 68 to finish seventh.
Taj, who moved to Brisbane with his dad Andrew, a former Noosa professional, now represents Brookwater Golf Club.
Noosa's Eli Cookman (81, 83) and Nathan Jackson (83, 84) failed to make the 36-hole cut.
Close for Ryley, but no Tour card
Noosa's Ryley Martin played below his best to shoot rounds of 78, 74 and 73 and narrowly miss out on qualifying for this week's Q-School Finals at Moonah Links in Victoria.
Martin, who plays and practises at Noosa Springs, was just outside the number required to join 29 lucky players into the final 72-hole qualifying tournament, where the top performers earn playing privileges on the Australasian Tour.
Mt Coolum assistant pro T. J. King got through, shooting rounds of 73, 75 and 71.
Never too old to teach
Those attending Noosa's special golf schools today and tomorrow will take particular heed of the advice delivered by veteran professional Terry Price who showed this week that he's lost none of his ability.
Price, twice a winner of the New Zealand Open and a former European Tour member, shot a magnificent eight-under-par 64 to win the Biloela Pro-Am last weekend. Now aged 62, Price was the oldest player in the field.
He and Noosa's head teaching pro Jimmy Douris will conduct the two-day training program, which comprises a junior golf school on Friday morning, a comprehensive multi-skill session for all levels in the afternoon, one-on-one training with Price on Saturday morning and specialised training in the afternoon.
Call Jimmy Douris on 0420 975 546 for details.
Club competitions
NOOSA
Monday 27 June
Women's stableford, 9 holes: Elisabeth Thomson 19c/b, Karen Archbold 19, Gwenn Davidson 18c/b.
Tuesday 28 June
Men's stableford: A grade – Cody Pyne 39c/b, Aaron Whitford 39, Michael O'Connor 38, Lee Christie 37c/b; B grade – Ben Butler 40, Kevin Krogh 37c/b, Marc Murray 37, Stephen Jackson 36; C grade – John Pawley 41, Kevin Richter 39, John Brough 38c/b, Aldo Oriti 38c/b.
Wednesday 29 June
Vets 4BBB stableford: Jim Crawford & Doug Rogers 47, Rob Rossow & Dave Stewart 45c/b, Steve Little & Robert Upham 45.
Thursday 30 June
Women's stableford: A grade – Sandra Callaghan 38c/b, Paula Jeffrey 38; B grade – Janis Rimkus 38c/b, Pamela Lavender 38.
NOOSA SPRINGS
Monday 27 June
Men's stableford: A grade – Peter Foulsham 37, Alistair Rooney 36c/b, Greg Taylor 36; B grade – Graeme Maddern 35c/b, Jeffrey Pearce 35c/b, Robert Flipp 35; women's par: A grade – Dee Pugh +1c/b, Lorna Gibson +1c/b, Toni Liddy +1; B grade – Sarah Bate +3c/b, Alette Mead +3, Margaret Stawski 0c/b.
Tuesday 28 June
Men's stableford: John Taylor 36, Alex Hackett 32, Tom Mardling 30; women's: Susan Walker 35, Helen Ringrose 30, Wendy Dauphin 26.
Wednesday 29 June
Men's stableford: A grade – Doug Oates 40c/b, John Stephens 40, James Hordern 38; B grade – Robert Mayfield 38, David Jackson 37, Paul Sprunt 36; women's: A grade – Annette Philp 39, Lorna Gibson 35, Jenny Hickey 34c/b; B grade – Elizabeth Balmforth 36, Jeni Sunderland 35c/b, Susan Walker 35.
Thursday 30 June
Men's stableford, black tee: Tony Carabetta 37, John Taylor 33, John Mulquiney 32.
Saturday 2 July
Men's stableford: Steven Burr 34c/b, Joshua Cooke 34, Julian Ford 28.
Sunday 3 July
Men's stableford: A grade – Scott Inslay 33, Edward Beehag 31c/b; B grade – Ray Brown 37, Matthew Davey 35.
COOROY
Tuesday 28 June
Women's stableford, 9 holes: Carolyn Foster 20, Mary Miller 18c/b, Susie Thompson 18c/b.
Wednesday 29 June
Vets stableford: Div 1 – Gary Menyweather 41, Mike Rumford 38, Peter Crosby 36; Div 2 – Ray Hand 37, Terry Wilson 36c/b, Wayne Carty 36; Div 3 – Donald Clelland 45, Con Russell 39, James Henderson 37.
Thursday 30 June
Women's stableford: Wendy O'Hare 39c/b, Fay Wiggins 39c/b, Carmel Clark 39c/b.
Saturday 2 July
Men's stroke: A grade – Noel Ackland 68, Pat Carroll 75, Mitch Davies 76; B grade – Kevin Ross 81, Tony Gordon 82, Brett Le Moy 85; C grade – Geoff Cowan 75, Jim Schaeffer 82, Gary Page 83.